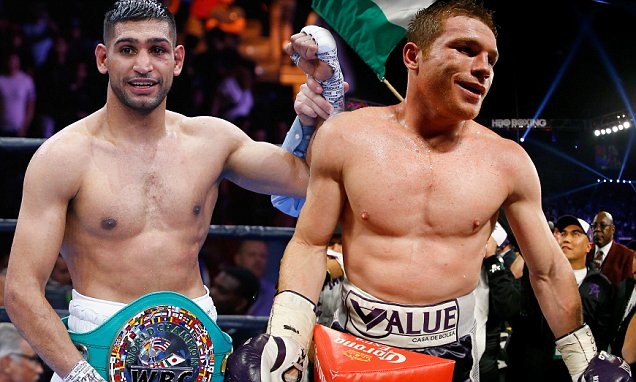 A bombshell was dropped earlier this week by Golden Boy Promotions CEO Oscar De La Hoya when he announced his star fighter and current WBC middleweight champion Saul "Canelo" Alvarez would be defending his title against former super lightweight and current WBC Silver welterweight champion Amir "King" Khan at the new Las Vegas, Nevada, venue, the T-Mobile Arena, on Saturday, May 7th, on HBO Pay-Per-View.
To quote the world-renowned true middleweight champion, Gennady "GGG" Golovkin, are you serious?
Even long-time "Canelo" defenders can't justify this match up. There is so many things wrong with this proposed bout, it is hard to know where to begin but we will try:
1.Compared to Pacquiao-DLH – De La Hoya, a shrewd as a promoter as he was as a fighter, actually compared Khan going up in weight to Manny Pacquiao's climb through the ranks. Khan has only campaigned in three weight classes, 135-147 pounds and in two of them, he has gotten knocked out, at lightweight by Breidis Prescott and junior welterweight by Danny Garcia. Pacquiao instead was doing the knocking out in nearly ten different divisions he went through since going professional. Hardly any comparison at all.
2.Weight, Weight, Don't Tell Me – Khan has never fought an ounce over the welterweight limit of 147 pounds and now would have to go up eight pounds to face Alvarez at the "Canelo"catch weight of 155 pounds. Many believe it would help Khan with his issues of his glass chin but it will also be detriment to what is considered is his best weapon, his speed. Alvarez usually climbs into the ring at nearly 170 pounds while Khan has said he will try to be at 165 pounds on fight night.
3.Where is the WBC in All of This? – Khan is the WBC Silver welterweight champion and is supposed to be the mandatory challenger for newly crowned absolute champion Danny Garcia. Now it is justified for him to challenge for the linear middleweight title, a division he has never fought in and is actually skipping the super welterweight division? How is that possible? A peep has not been heard from the WBC president Mauricio Sulaiman regarding that issue. Some months ago Sulaiman ordered that both Alvarez and the WBC Silver 160 pound champ Golovkin have voluntary defense before the winners of those two match ups are to meet in September expecting it will be Alvarez and Golovkin. Let's say in a shocking result, Khan is able to box himself to a win. That would mean Khan would be the middleweight champion and now he would have to face "GGG"? Have the pro-"Khanelo" fans thought of that scenario?
Much was said of Golovkin's next opponent, IBF #3 ranked Dominic Wade but "GGG" needs to face who the IBF mandates if he wants to keep the belt. Golovkin has always said his goal is to unify the titles so now he will face a true middleweight to be able to keep that piece of the crown.
What real reason does "Canelo" have for facing Khan? Yes, you guessed it, that almighty dollar.
---