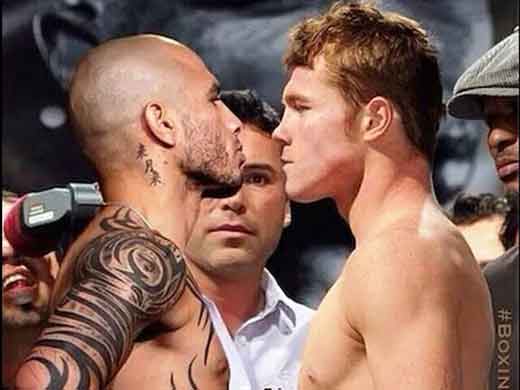 Our debate topic last week was who should Megastar Manny Pacquiao fight this coming spring in his proposed next fight. We gave such names as Amir Khan, Terrance Crawford, and Timothy Bradley Jr., and asked our followers to give any more names or options they felt were viable. Some actually felt that Pacquiao just not return and instead just retire. The overall feedback had Khan as the best opponent should Pacquaio decide to continue on his career.
The mega showdown between WBC Middleweight champion Miguel Cotto and Saul Alvarez is just a few weeks away. There has been a lot of anticipation for this fight for quite some time. One of the biggest reasons is the hope that the winner will face WBA middleweight champion Gennady Golovkin in their next fight. The key word here is hope and not guaranteed. These leads to our debate of this week. Do you think the winner of Cotto vs. Alvarez will fight Golovkin in their next fight. We have decided to breakdown the scenario of whether its Cotto or Alvarez that's the winner of their upcoming fight.
Saul Alvarez is the favorite to defeat Miguel Cotto. Alvarez is moving up one weight class to challenge Cotto for his middleweight title. However, Alvarez and Cotto will fight at a max catchweight of `155 pounds and not the middleweight max limit of 160. Alvarez without a doubt is Golden Boy promotions biggest star. If he were to defeat Cotto he himself would be more than willing to face Golovkin. His promoter on the other hand may not be so eager. Especially after they watched Golovkin dismantle their now ex-champion David Lemieux last month. Alvarez is only 25 years old and really doesn't need to fight Golovkin anytime soon if at all. If anything Golovkin needs him more as Alvarez is actually the bigger overall draw.
Cotto is in a different place in his career than that of Alvarez. He is 35 years old and appears to be winding down in his career. He also has a very lucrative contract with Rocnation. Should he defeat Alvarez his promoter likely would want a Golovkin fight next as it could assure a solid return on their investment in Cotto and some. Cotto has had the catchweight clause in his favor for consecutive fights. It would be interesting to see how much weight the Golovkin side would be willing to give  being that Golovkin is a natural middleweight unlike Alvarez. Cotto would have the leverage for sure as Golovkin really doesn't have a lot of big name middleweight options.
There you have it. Please give us your feedback on if you feel the Alvarez vs. Cotto winner will indeed fight Golvkin next. Keep in mind that the winner even if they fought Golovkin next is likely not going to fight him until May or June of next year. Golovkin isn't likely to sit out that long. He could actually have a fight in the early part of 2016. This could give him an activity edge headed into the potential mega showdown.
---