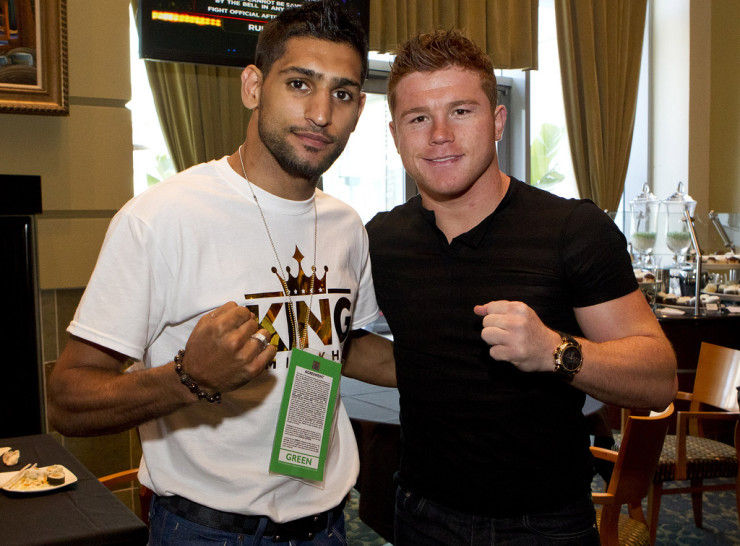 Last week are debate of the week was which division was more exciting at the moment. The divisions we chose were the welterweight division vs. the heavyweight division. A few months ago it really would not have been much of a contest. The welterweight division by far had the much more anticipated matchups. The odds evened up mainly when Tyson Fury upset long time unified heavyweight champion of the world Wladimir Klitschko this past November. The overall feedback from our followers was about even on which division is more exciting. Both divisions have many realistic exciting fights that can be made in 2016.
It was recently announced that WBC and Lineal Middleweight World Champion Saul "Canelo" Alvarez (46-1-1, 32 KOs) and Amir "King" Khan (31-3, 19 KOs) will face each other May 7th. The showdown will take place at the T-Mobile Arena, in Las Vegas, Nevada. Alvarez' WBC middleweight title will be at stake. The pair have agreed to fight at a catchweight of 155 pounds.
This fight caught many off guard. Khan was very active on the social networks during his pursuits of fights with Floyd Mayweather Jr. and Manny Pacquaio. He did it so much that many feel it actually costs him getting those fights. There seemed to be not even a mention that this fight was even in the works. There were so many speculations of each guys' next fight but not of them facing each other.
There was instant drama with this fight being made because of the large gap in weight between the two. Khan normally fights at 147 and Alvarez recently won his 160 pound world title. If that were not enough the catchweight agreement has many upset as well. Between Miguel Cotto's challenging, winning, and losing this same title there hasn't been an actual fight at the 160 pound limit in a few years now. Please give us your feedback on this fight and its contracted stipulations. We want to know if you are in favor or against this fight.
---