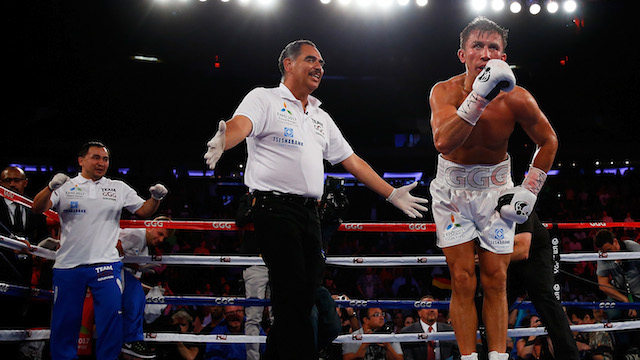 On Saturday night from the big room of the Madison Square Garden, the boxing world might have seen its new star in Gennady "GGG" Golovkin as the Kazakhstan native stopped the overmatched David Lemieux in eight rounds to capture the IBF title. That strap goes along with his IBO,WBA and the interim WBC middleweight titles. Since hitting the boxing spotlight Golovkin has said he wants all the belts at 160 pounds and only then will he think of moving up in weight.
He might not reach that goal.
On November 21st WBC middleweight champion Miguel Cotto will face Saul "Canelo" Alvarez in Las Vegas, Nevada.  Everybody except for perhaps Cotto and his trainer Freddie Roach believe Alvarez will capture the title over the veteran Puerto Rican.  Alvarez and Golden Boy Promotions have stated they are open to facing "GGG" sometime next year in what would be a mega fight.
If Cotto where to beat "Canelo", it seems highly unlikely Miguel will look to face Golovkin in a title fight.  Cotto has been very clear that he is fighting for himself and his family and is not really all that interested in giving the fans the fights they want to see or that boxing needs.  Granted, he is facing a tough challenge in Alvarez but Cotto has much better chance against the young "Canelo" than the beast Golovkin and he and his team know that.
The fact that Cotto won't face Golovkin doesn't stop "GGG" from elevating his interim WBC title to the full-fledged one sometime in the near future.  It is safe to suppose if Cotto wins his next fight and holds on to the title, he will fight again but how many more times is anybody's guess.  It would be hard to imagine it would for too much longer.
Now according to the Mauricio Sulaiman of the WBC, the winner of between Cotto and Cnelo must face Golovkin since the interim champion.  That was the deal that was struck for Cotto to be able to face Alvarez and not Golovkin.  If Cotto refuses, it should be expected that he would leave the title vacant giving Golovkin the opportunity to face somebody for it.
The World Boxing Organization or WBO middleweight title is held by Andy Lee.  It wouldn't seem making a fight against the game Irish fighter would be all that tough.  Lee has a bout scheduled against Billy Joe Saunders in December so Golovkin must wait for the result of that to see who he can go after for that title.
Since Golovkin is already the WBA super champion, the "regular" champion doesn't come into play.  That is Daniel Jacobs who is part of the Premier Boxing Champions and might as well be on another planet as far as Golovkin's chances of facing him are concerned.  Jacobs is facing former champ Peter "Kid Chocolate" Quillin in early December.  As we all know, the PBC is led by Al Haymon who in person non-grata at HBO.  Golovkin has an exclusive deal with the network so what HBO wants, HBO gets.
---