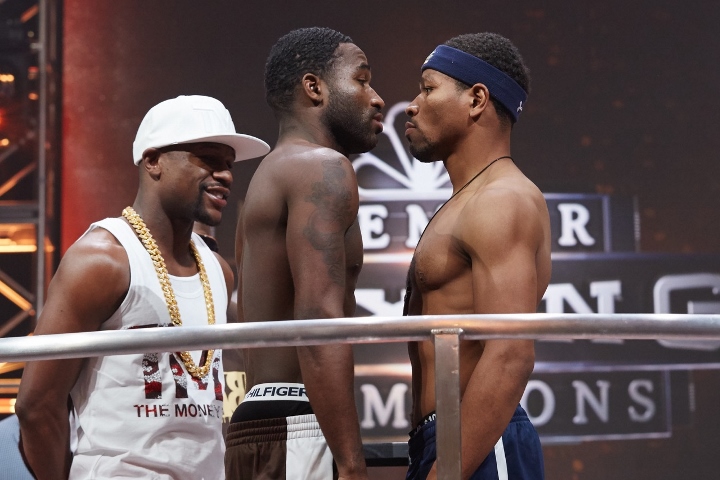 Our debate last week was who would have won a fight between Felix Trinidad and Shane Mosley. We set the weight at 147 which is where both seemed to have their most success. The match was to have taken place when both fighters were still unbeaten. This way both fighters would have been in their mid to late 20's and in their physical primes. Mosley had his share of supporters who felt that his speed would have given Trinidad a lot of problems. The majority overall felt that Trinidad would have won the fight.
We switch things up a bit this week and go to the subject of catchweight fights. In the good old days as we like to say catchweights were not really a factor. When a guy from a smaller weight division wanted to challenge a world champion from a heavier division then he moved up. There was no meeting in the middle at an agreed upon weight. In today's boxing catchweight fights are being made regularly. The upside to this is that some very good fights have been made of late because of the special weight stipulation. One of those was an unbeaten Saul Alvarez vs. unbeaten pound for pound king Floyd Mayweather Jr back in 2013. Alvarez was the champion at 154 and Mayweather at 147. Meeting in the middle at 152 seemed to make since. One scenario where it did not seem to make sense at all was the fight between 140 pound world champions Danny Garcia and Lamont Peterson.. The two met earlier this year and fought at an agreed upon catchweight of 143 pounds. Both fighters have moved up to welterweight following their fight so it seemed like it made more since for them to have vacated their titles at that point and just fought at 147.
The catchweight factor also seems to setup an excuse for the losing fighter. When Miguel Cotto fought Manny Pacquiao back in 2009 he was the welterweight champion. Cotto agreed to weigh in at no more than 145 pounds instead of the welterweight max limit of 147. Pacquiao would dominate Cotto in route to stopping him inside the distance. Cotto would later say that the weight was an issue for his performance that night as would Alvarez about his bout with Mayweather Jr. Our debate is whether you are for or against catchweights. Please keep in mind that were referring to agree upon catchweights prior to a fight. This does not apply to fighters who do not make their contracted weights and the sides agree to a weight in order to not cancel the fight. We want to hear from you.
---