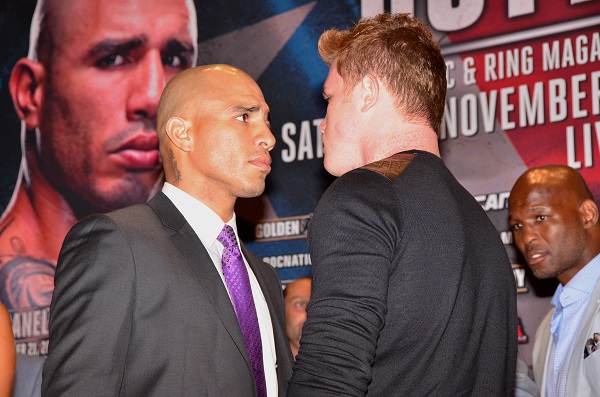 Here we are folks, in the middle of fight week for Miguel Cotto vs Saul "Canelo" Alvarez who face each other this Saturday night from the Mandalay Bay in Las Vegas, Nevada, live on HBO Pay-Per-View.  To celebrate that, our 26th edition of Around the Ring is dedicated to just this event.
WBC Strips Cotto – In a surprise move for fight week, the World Boxing Council, or better known as the WBC, unrecognized their middleweight champion Miguel Cotto because the Puerto Rican refused to pay their sanctioning fee. After Mauricio Sulaiman, head of the council, tried to negotiate and try to collect a $300,000 fee instead of the usual three percent, Cotto counteroffered with $125,000.  That was above and beyond the $800,000 step aside money that Gennady Golovkin was owed for allowing the voluntary defense vs "Canelo".  Sulaiman unrecognized him on the spot.  Cotto decided to stay with his $1.1 million and said he that was enough for him to buy any belt he wanted.
$100,000 on the Line – It was announced last week Oscar De La Hoya, promoter of Saul Alvarez, and Sean Carter, better known as Jay-Z and Miguel Cotto's promoter, placed a bet against each other for one hundred thousand dollars. Obviously each man is going for their man.  The loser will hand over the cash to the winner's favorite charity.
The Cuban is Back – After an eleven month layoff, former undisputed super bantamweight champion Guillermo "El Chacal" Rigondeaux was signed to Roc Nation and was added to this Saturday's Pay-Per-View undercard. Rumors are that he either signed for two years with an option for a third or for nine fights worth ten million dollars.  No word how HBO fits into Roc Nation's plans in promoting Rigondeaux since according to his last promoter Bob Arum the network wants any part of the former Olympian champion.  Rigondeaux will be facing Filipino Drian Francisco.
No Buzz – According to some reports, tickets for this Saturday night's mega fight are soft and selling at face value in the secondary market. It can be expected it should sell out by the Saturday night but if not, you can be sure Roc Nation, who is the lead promoter of the event, will paper the house to show a full room.  The general consensus is it should have never been held in Las Vegas but would have been better in New York or Texas.
Who has Whom? – Everybody and their mother has gone on record to say who is going to win this fight. The split is pretty even.  Interestingly Austin Trout and Shane Mosley, who have faced both men, have picked "Canelo".  Even more interesting is that Puerto Rican Felix "Tito" Trinidad has also gone with the red-headed Mexican. One that didn't?  Juan Manuel Marquez who  thinks Miguel Cotto has enough experience and skill to beat his man this Saturday night.  Alvarez is a slight favorite in the casinos but that might change once the Mexican contingent gets to Las Vegas and starts laying down their money on the twenty-five year old "Canelo".
---