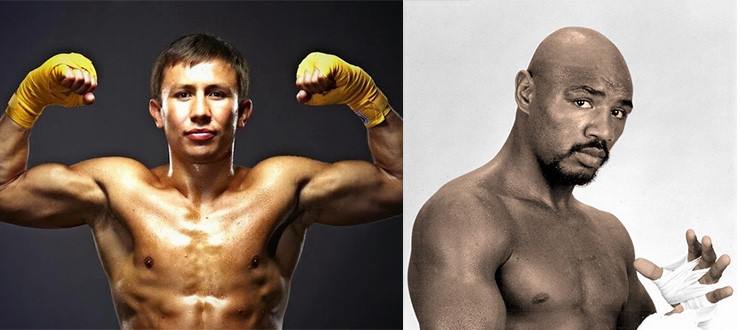 Our debate last week was on whether a trainer should have a contract with a fighter. A manager and a promoter for years have had contracts with fighters. The trainer for the most part usually has in reality an unwritten understanding with the fighter. Many times a change is made when the fighter suffers their first loss. Sometimes a change is made after the pair has achieved success from the beginning but a fighter may seek out a trainer who may have a bigger name in the industry. In any event a trainer in reality without a contract can be dismissed at a moment's notice. The overall feedback was that it should be the fighter's decision. The majority felt that a fighter should not be forced to stay with a trainer with a contract.
One of the hottest names in boxing today is unbeaten middleweight champion of the world Gennady "GGG" Golvokin (33-0, 30 KOs). His popularity over the last year has grown to such a remarkable level that he is considered much see TV by many. It's not limited to the tube as tickets to see him fight live in his unification versus David Lemieux (34-2, 31 KOs) are selling very fast.  Golovkin is a heavy favorite to defeat Lemieux. The fact that Lemiuex is a big puncher has led to some excitement for the build up for the fight. Golovkin just hasn't had much resistance in his most recent fights. Its not any fault of his own. He is just that much better than the current talent in the middleweight division.
This reminds one of the early and mid-80's when another middleweight champion was just dominating the challengers being put in front of him. This was none other than "Marvelous" Marvin Hagler (63-3-2, 52 KO's). Hagler was not the puncher Golovkin is but he could really wear his opponents down. He also had a very good arsenal of punches. Add to all of that he was a southpaw albeit not a slick one. Hagler like Golovkin went through a stretch where he had a number of fights where going in you felt the opponent really didn't stand much of chance. It was no fault of his own as he was that much better than most of his legitimate challengers.
Our debate is on who do you feel would have won in a showdown between GGG and the Marvelous one. Golovkin seems to be in his prime right now so that is the Golovkin we would in vision in this matchup. The Hagler who defeated Thomas Hearns is the one we would choose to be in this matchup as he seemed in his prime. There are so many different angles to think about in this matchup. Let' go through a few briefly.
The first thought is Hagler standing up to Golovkin's power. Hagler showed a first class chin throughout his career. Hagler fought legendary and hall of fame fighters Thomas "the hitman" Hearns, Roberto "hands of stone" Duran, and "Sugar" Ray Leonard. All them were the best of his era but none were true natural middleweights.  The biggest puncher that he may have faced actually was John "the beast" Mugabi. Entering the fight Mugabi was the number one ranked contender by all the major sanctioning bodies and had won all of his fights by knockout. Hagler took Mugabi's best and stopped him late in the fight. Hagler was also a very underrated defensive fighter. He pressured and moved forward but slipped punches very well. Golovkin to date has not seriously been tested by someone who could hit as hard as he could. Lemieux may give him that test so we will have to wait and see. Golovkin had a very extensive amateur background.  He has not to date had to use his boxing skills during a match for any long period
of time. His opponents thus far have been on the defensive because of his power. There you have it. Please give us your take on who you feel would have won between these two.
---