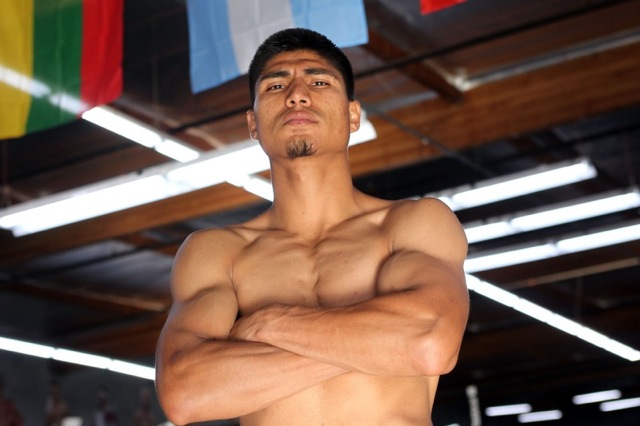 In January 2013 Mikey Garcia (34-0, 26 KOs) achieved the goal of most boxers by winning his first world title. Garcia defeated Orlando Salido that night by way of technical decision in round 8 winning the WBO Featherweight world title. Garcia suffered a a broken nose that was ruled to be caused by a head-butt. It should be noted that Garcia dominated the action dropping Salido 4 times prior to the fight being stopped and going to the scorecards. Garcia followed that up by defeating former two– division champ Juan Manuel Lopez, Ramon Martinez, and Juan Carlos Burgos. A trio that had a combined record of (90-4-4 ) at the time Garcia fought them. His win over Martinez was for the WBO 130 pound world title making him become a two- division world champion in less than a year.
Garcia had achieved so much in such a small amount of time. The sky seemed the limit for him at just 25 years old following his victory over Burgos in January 2014. There was even rumors swirling around for a catch weight fight between he and Mega star Manny Pacquaio. The momentum would soon come to a halt as Garcia became involved in a promotional dispute with his promoter Top Rank. Garcia has not fought since his fight with Burgos in January 2014. There has not been any concrete source of information that shows if the two sides are close to reaching an agreement so that Garcia can pick up where he left off. Timing can be so important for a skilled fighter like Garcia so inactivity is not a good thing.
There are a number of realistic fights that could happen should fighter and promoter finally agree on terms. It will all depend on what weight Garcia decides to fight at. It would seem that returning to 130 where he was last a world champion is unlikely especially with so much time out of the ring. The 135 lightweight division seems more likely. It would be understandable if he were to take a tune-up or two after so much time out of the ring. We will focus on the high profile fight possibility. Becoming a three division champ could be a short term goal. The biggest name at 135 right now is Jorge Linares. It would be an easy fight to make now that Linares' promoter Golden Boy are working again with Top Rank. In terms of Top Rank fighters a showdown with Terrance Crawford could be a huge fight in 2016. That definitely would be after some time back in the ring. Then there is landing the dream fight of a showdown with Pacquaio. Would seem like a longshot and Pacquaio will be out of the ring for a while. They both have the same promoter so you never know. The options seem to be of many. We can only hope that this all gets resolved sooner rather than later. Garcia is still only 27 years old and there is so much he can attempt to accomplish.
---