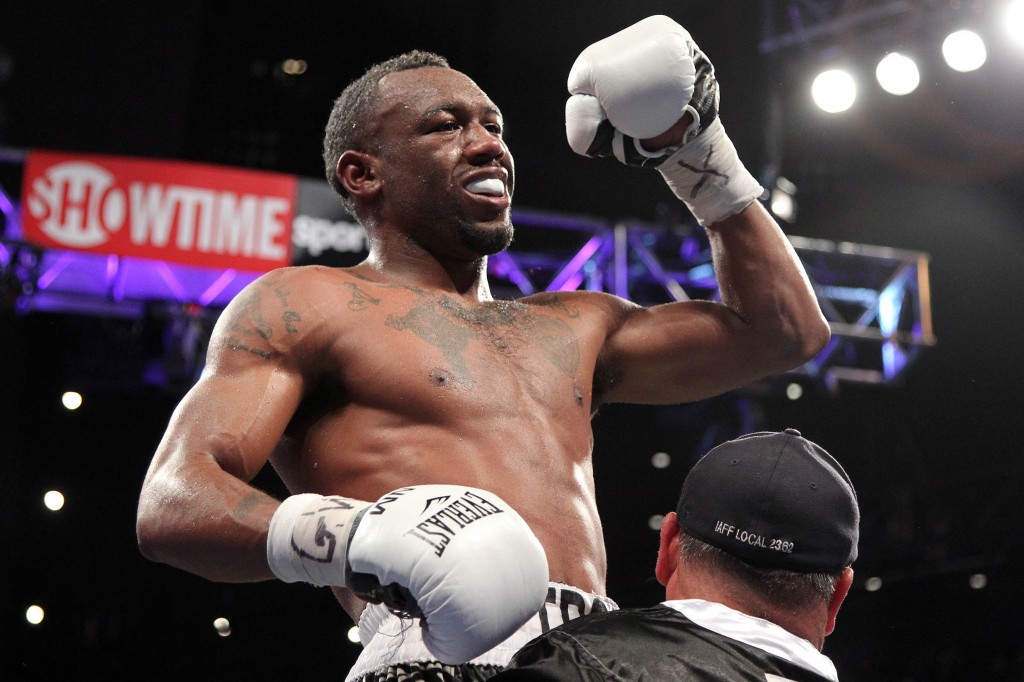 Former WBA junior middleweight champion of the world Austin  "No doubt " Trout (28-2, 15KOs) will step up in competition when he faces former world champion Australian Anthony Mundine (47-6, 27 KOs) May 9th in Hildalgo Texas.  The 12 round junior middleweight bout is for the WBC Silver super welterweight title.  The winner will likely advance much closer to world title consideration. Trout's last two fights were against solid buys but lower level in comparison to what the public is accustomed to seeing him face over the previous few years. Mundine is fresh off of an upset win over highly world ranked and previously unbeaten Sergey Rabchenko. Trout on paper seems to have his hands full with Mundine but this is nothing new for Trout.
Trout is an easy guy to root for as he has earned everything in boxing the hard way. He won his WBA world title in the hometown of Rigoberto Alvarez(brother of Saul) in Guadalajara, Jalisco, Mexico. Yes Rigoberto is not in Trout's class but the bout was not aired on U.S. television and Trout still did enough to nearly pitch a shutout on the official judges cards. Just four months later Trout returned to Mexico to defend against another Mexican fighter in David Lopez. Again a fighter Trout is much better than but none the less fighting a non U.S. Televised fight against a local countryman's fighter. Trout not a big puncher but won nearly every round of the fight and scored a knockdown on Lopez. Not long after the Lopez fight Trout's career would get a huge boost after he was signed by advisor Al Haymon.
Now that he was a part of Haymon's growing stable of fighters the big fights that may have previously eluded him were now capable of being made. Now the real pressure was on as he would have to deliver when he got the call. First major opportunity came December 2012 against none other than now four-time divisional world champion Miguel Cotto.  On top of that the fight would be In Madison Square Garden where Cotto had never been beaten.  Cotto was the favorite entering the fight but not by wide odds. Looking back on it that probably should have been the first sign that Trout had a legitimate chance to pull off the upset. The thinking by many was that Trout was not likely to beat Cotto by decision. So a knockout victory or a knockdown or two seemed to be what was needed for Trout to win.  Trout dominated and even frustrated Cotto in route to the unanimous decision victory. So much was made of Trout pulling off the upset that many forgot that Trout was the defending world champion that night and not a challenger to Cotto.
The way Trout dominated Cotto on his home turf had many thinking that any big named fighters would not be in a  hurry to fight him. Let alone an unbeaten fighter. As much as Trout loves to seek out a tough challenge Saul  "Canelo " Alvarez seeks them out equally if not even more. The two would meet in April of 2013.  This was a relatively short turn around time from the Cotto fight for Trout. The Alamodome in San Antonio, Texas played host where thousands of pro Alvarez Mexican fans showed their support.  The  bout was a fairly tactical affair the first half of the fight. The turning point came when Alvarez dropped trout at the beginning of round 7. Trout got up but it changed the complexion of the fight in which Alvarez would got to dethrone Trout by way of decision.  Instead of seeking out a tune-up Trout sought out the best available challenge in the division which was Erislandy Lara for the WBA Interim title. Lara like Trout is a southpaw but he proved that no doubt  he was the better boxer and stronger fighter even dropping Trout late in the fight. The loss left Trout reeling coming off of back to back losses.
Trout would be out of the ring for about 8 months and the ring rust showed. Trout didn't look particularly good in his initial comeback fight against Dawson being dropped twice. Too his credit he got up twice and would drop Dawson later on in the fight in route to the hard earned but deserved decision winning victory. Trout looked much better in his last bout this past December where he dropped the normally durable Luis Grajeda in round 5. Trout would punish Grajeda for a few more rounds until Grajeda's corner decided they had seen enough stopping the fight just before the start of round 8. It would be the first time Grajeda was stopped in his pro career. Trout appears to be back in form and looks to prove this against Mundine. Trout is only 29 and in his prime. Mundine will be fighting outside the comforts of home in Australia for just the third time in 53 fights. Mundine is fishing for that mega fight but after getting a taste of this Trout he may have second thoughts on having taken this fight.
---