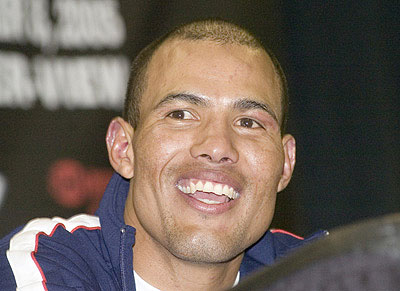 With the Manny Pacquiao vs Chris Algieri fight gearing up for late November, Ruslan Provodnikov, the man Algieri defeated to get the shot at the "Pac-Man", and his team seem to in a bit of hot water.  After losing to Algieri back in June, Provodnikov, known as the "Siberian Rocky", was not able to secure a turn-around fight on HBO so he decided to back home to Russia for his return to the ring. After an alleged offer of half a million dollars to Mauricio Herrera was declined and after making offers to Zab Judah and even Shane Mosley, his team had to settle for former lightweight champion Jose Luis Castillo on November 28th.
This news has the boxing world in somewhat of an uproar.  In recent news stories Provodnikov's US-based promoter Artie Pelullo has tried to justify waiving a six-figure payday to the forty-year-old down and out Castillo for the fight stating that he was a better choice than Julio Diaz, another former lightweight champ who has seen better days.
Castillo is most famous for a 2002 twelve round fight against Floyd Mayweather Jr who many say he won.  Mayweather Jr says he hurt his shoulder during the fight.  Mayweather Jr escaped with a close, for his terms, unanimous decision.  Eighth months later Mayweather Jr beat Castillo more soundly in a rematch.
After those losses, Castillo kept toiling in the 135-pound division beating the likes of Juan Lazcano, the aforementioned Julio Diaz before facing the late great Diego "Chico" Corrales in May of 2005.  Before these two men took the ring at the Mandalay Bay Resort and Casino in Las Vegas, nobody knew what was going to transpire for the next ten rounds.  Corrales and Castillo put on a battle for the ages, considered the best fight so far of the new millennium, a back and forth slice of mayhem.  After controversially spitting out his mouthpiece twice after knockdown in the tenth, Corrales went ahead and stopped Castillo a little over two minutes into the round.  They were scheduled to fight again five months later but Castillo didn't make weight while a drained Corrales did.  Castillo knocked out the "Chico" in four. When Castillo missed weight again in the rubber match, the fight didn't happen.  It was never rescheduled since Corrales died in a motorcycle accident in 2007.
Since then Castillo has been the poster boy of irresponsibility, missing weight and in his own omission, not training as hard as he should.  It has been about seven years since Castillo was in a major fight, a 4th round knockout loss to Ricky Hatton in Las Vegas. Since then he has been a stepping stone for fighters who despite beating, don't amount to anything with names like Sebastian Andres Lujan, Alfonso Gomez, Jorge Paez Jr and Antwone Smith.
It is no secret in Mexican boxing circles that Castillo, who in his hey day was known as for his high punch output, has equaled or surpassed that with his wallet.  A six-figure pay day for Castillo would be quite nice and would help him ride out into the sunset.  Will he be there to enjoy the money?  Maybe but at this stage, why take the risk?
---