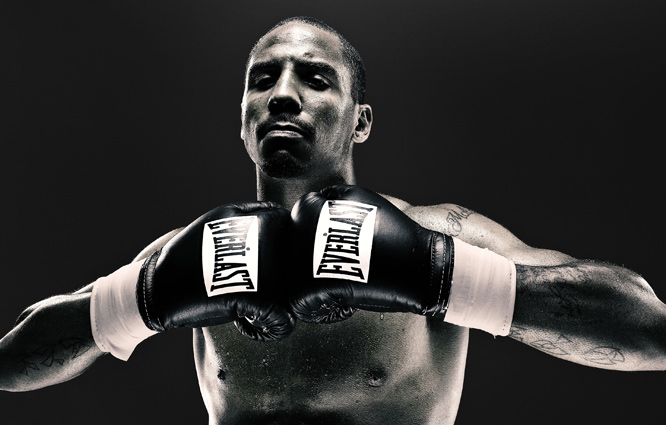 After a two-year hiatus, former WBA and WBC super-middleweight champion Andre "S.O.G." Ward returned to the ring last June to stop unknown Paul Smith in nine rounds.  The fight despite going down in his hometown of Oakland, CA, and televised on the BET network hardly made any waves.  The fact Ward also moonlights as an on-air personality for HBO didn't help his cause either.  It seems some recent and some not recent decisions and comments by the thirty-one year old has not endeared him to the general boxing public or to its media.  Ward is still considered as one of the bets fighters in the sport and is listed by many in the top three now that Floyd Mayweather Jr has retired.
After taking top honor in the unprecedented Super Six tournament broadcast by the Showtime network, Ward jumped to stratospheric heights as far as respect and popularity.  Not considered a  favorite in the tournament Ward quickly established himself not only as the winner of the  tournament but the best super middleweight in the world  with wins over Mikkel Kessler, Allan Green, Arthur Abraham and Carl Froch.
After the tournament though trouble ensured when Ward took his former promoter, the late Dan Goosen, to court claiming a number of issues.  They went to court several times and at the end, after Goosen passed, Ward was able to break free from an agreement he claimed was unfair.  Ward quickly there after signed with emerging boxing promoter Roc Nation led by Sean Carter AKA rap mogul Jay-Z.  His fight against Smith was the first under the new banner.
Ward, undefeated in twenty-eight fights, is used to big paydays and likes to do what he wants to do in his career.  He doesn't like to be dictated by anybody, network, promoter or manager, who, how and when he should fight next.  Fights against Chavez Jr, Golovkin, Kovalev among others have been spoken about but never materialized.  Not enough money, issues with the weight or some other term have not been to Ward's liking but it seems that with months of inactivity and himself now over thirty years old, it looks like Ward must be changing his mind.
It was just recently announced that he signed a multi-fight deal with HBO.  Ward will be back in the ring on the Pay-Per-View undercard of one of the biggest fights of the year, the WBC middleweight title fight between Miguel Cotto and Saul "Canelo" Alvarez.  Cotto, also with Roc Nation, is a stable mate.  Ward can't make super middleweight anymore.  It is understood for Ward to get the deal with HBO he must have agreed to face Sergey Kovalev, the current IBF, WBA and WBO light heavyweight champion, sometime next year on the network.  HBO has been promoting the man from Russia pretty much since Ward has been out of commission.  Now it will be time for these two men to meet.
That is Pay-Per-View worthy in itself but first we must see it to believe it.
---