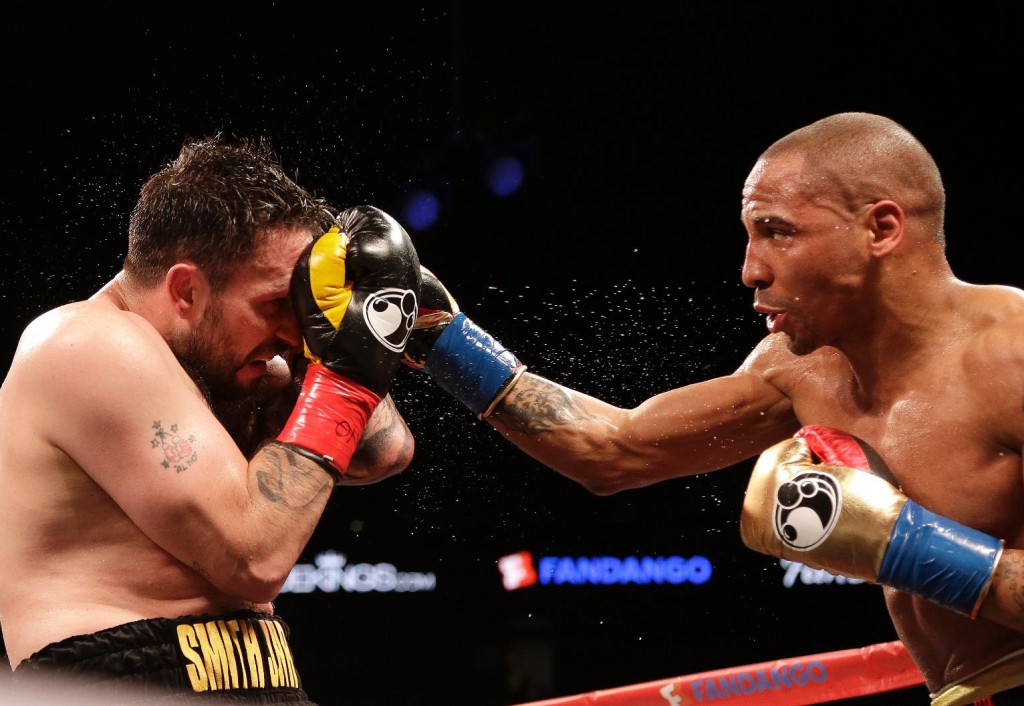 The last time boxing fans saw WBA Super Middleweight champion Andre Ward (28-0, 15 KOs) in the ring prior to this past Saturday was November 2013. A drawn out promotional dispute was a big part of this. Ward has since signed with a new promotional company Roc Nation Sports earlier this year. It's a fresh start for Ward who is a young 31 having not been in too many ring wars if any at all. He works as an HBO network commentator but his return was aired on the Black Entertainment Network (BET) which was making its boxing debut on its airways.
The opponent for Ward last Saturday was former 2-time world title challenger Paul Smith (35-6, 20 KOs) from the United Kingdom. Smith gamely but unsuccessfully lost back to back decisions to WBO Super middleweight champion Arthur Abraham both times in Germany. Ward was a heavy favorite to defeat Smith in Ward's native Oakland at the Oracle Arena, in Oakland, California. Smith was way over the agreed upon maximum weight limit of 172 when he weighed in at 176½ pounds. This cost him a good amount of money from his fight purse. It also did not end up as an advantage for him as Ward still dominated him as expected. It was excellent matchmaking as Ward looked very sharp showing no signs of the long inactivity outside the ring. Smith style was excellent for Ward to sharpen his skills against and get some much needed rounds. There is no substitute for live boxing rounds. In the end Ward closed the fight in style when Smith's corner rightfully threw in the in the towel in round 9.
Immediately future opponents for Ward became the focus of attention following his dominate victory. In his own weight class there is former foe Carl Froch. Ward dominated him in there Showtime televised Super Six Tournament final a few years back. Ironically Froch's career has flourished not too long after losing to Ward. If George Groves were to defeat WBC Super Middleweight champion Badou Jack in their upcoming fight that would be realistic unification possibility. A fight with Middleweight world champion Gennady Golovkin would be a major fight as Golovkin's popularity is steadily growing as proved by network ratings and filling up the seats in venues. The other fight which would be considered his biggest challenge would be against unbeaten unified light heavyweight champion of the world Sergey Kovalev. Ward would be fighting a naturally bigger fighter and the biggest puncher he has faced thus far in his career. A win over Kovalev would be a big challenge for Ward but one that could elevate his career to an entire different level.
---