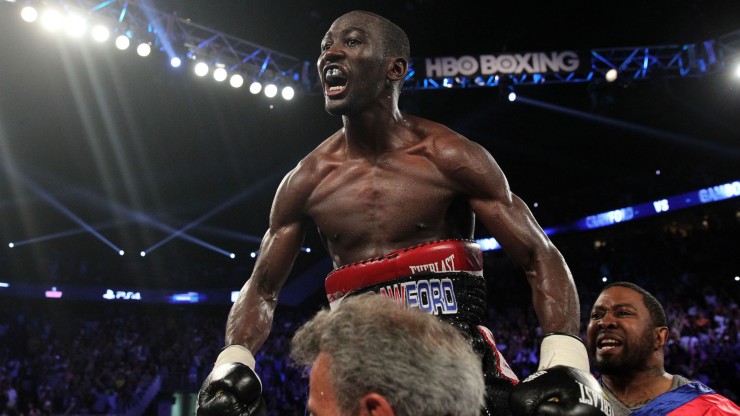 In a systematic beat down this past Saturday night from Omaha, Nebraska, hometown ultra-favorite Terence "Bud" Crawford defeated the Haitian living in Canada Dierry Jean in ten rounds.  Crawford sent Jean to the canvas three times, once in the first, ninth and tenth round. With the win Crawford defended his WBO light welterweight title as well as continuing his reign over the mid-west as the premier fighter from the area.  So much so that even notorious wealthy recluse Warren Buffet made the trek out to see Crawford fight. Not from a ringside seat but as customary for the frugal billionaire from midway up the arena.
It was said the fight, only the second one for Crawford this year, was an audition to face Manny Pacquiao by April of last year. The news around boxing town is that Pacquiao will return on April 9th in what will be the last fight of his storied career.  It is rumored that Pacquiao is looking for a seat in the Filipino senate which would require more of his time unlike his run as congressman where he was still able to not only train but fight as a professional boxer.  The elections for the Senate are in May so if he would win the seat, it would be a six year commitment to the country and thus end his career as a prizefighter.
Is "Bud" Crawford the right man for the job?
Last Saturday night we saw a continuation of the Crawford style, quick, solid combinations from both guards. Against Jean, like when he fought Gamboa, Crawford utilized a southpaw stance to pick the Haitian apart while controlling the distance to land a still straight left hand that would hurt Jean nearly every time it landed.
Many boxing fans and pundits believe that Crawford might be a bit too much for this Manny Pacquiao.  Not that Crawford is anything near Floyd Mayweather Jr in skill or style but Crawford knows how to box.  He is much closer to the former king of boxing than say, a pure brawler like Brandon Rios.  With that said might be just a bit too much for the thirty-six year old Filipino.
Last year Crawford was named the fighter of the year.  That honor was earned for fighting three times, capturing the title in foreign lands and then defending it in his hometown twice while becoming a bona fide ticket seller.   By December of 2014 Crawford was being touted as the next big thing not only by his promoter Top Rank but by the boxing media.  This year it hasn't been as good.  He fought early in the year and was forgotten for most of the year until last Saturday.  He still sold tickets in Omaha but will he anywhere else?
Crawford might be too much risk for too little reward for Pacquiao's last fight.  Crawford is not guaranteed to bring a large number of Pay-Per-View to the table either.  If the fight does happen in April of next year, Bob Arum might be looking to crown his new king on the back of his last one.
---