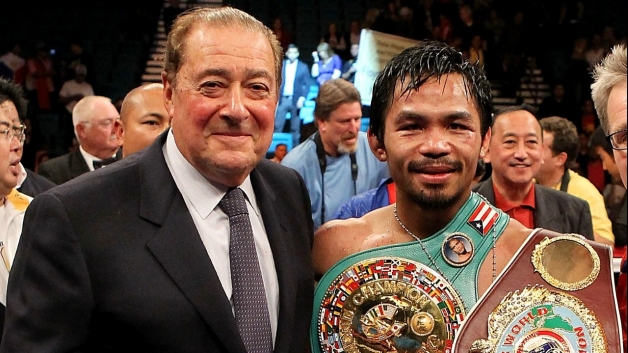 If there is something eighty-three year old head of Top Rank Bob Arum knows how to do is promote.  Despite having some attractive fights on the horizon like Nonito Donaire vs Scott Quigg and Timothy Bradley vs Brandon Rios, everybody in the boxing world knows that his main dish is none other than Manny "Pacman" Pacquiao.  Even though Pacquiao has not fought since May when he dropped a disappointing unanimous decision to Floyd Mayweather Jr, he has stayed in the news for nearly the last five months, mainly thanks to his promoter.  Arum nearly stops at nothing to keep Pacquiao relevant even if he will be not in the ring again until 2016 because of a shoulder injury suffered in his fight against Mayweather Jr.
Some weeks after the injury, Arum actually turned on his star and accused him of not going after his proper rehabilitation for his shoulder.  Arum revealed that instead of going to the doctor, Pacquiao was using the primitive method of prayer and swimming in salt water to relieve his pain.
According to Pacquiao, it worked.
Pacquiao didn't take to kindly to the public criticism from his boss but ever loyal and respectful, the former Filipino congressman didn't really make a big deal about it.  In the meantime Arum has commented on everything from Pacquiao's continuing political aspirations, including one day being President of the Philippines, to who Manny will face in his next fight back.
The last subject is the one that has been the most on Arum and the boxing media's mind.  Arum has repeated almost to no end that Pacquiao's next opponent in early 2016 will be either Amir Khan, Terrence Crawford or Kell Brook.
In true Arum fashion, that list points more towards Crawford than anybody else.  Crawford is part of Top Rank and earlier this year was boeing touted as the next big thing for the company.  Amir Khan is part of the Premier Boxing Champions headed by Al Haymon so that might be non-starter and Brook might be promised more than Arum might be willing to give to get him in the U.S. or the Middle East for a fight with Pacquiao.
With boxing fans reading between the lines, Arum felt he needed to raise the ante so just recently he added two more names to the list.
Arum mentioned that a rematch with Pacquiao's arch nemesis Juan Manuel Marquez could also be a possibility while a fight with Lucas Matthysse could be also in the works.  A Marquez fight would be the fifth between the two and quite possibly is the easiest one to make even though Marquez would rather face Brook for that fifth title in as many divisions.  A face-off against Matthysse shouldn't be a problem either since he stayed with Golden Boy Promotions and since the company's split with Al Haymon, who at one time represented Matthysse, and Richard Schaeffer, CEO Oscar De La Hoya has been quite chummy with his old promoter.
Let's hope its Matthysse.
---