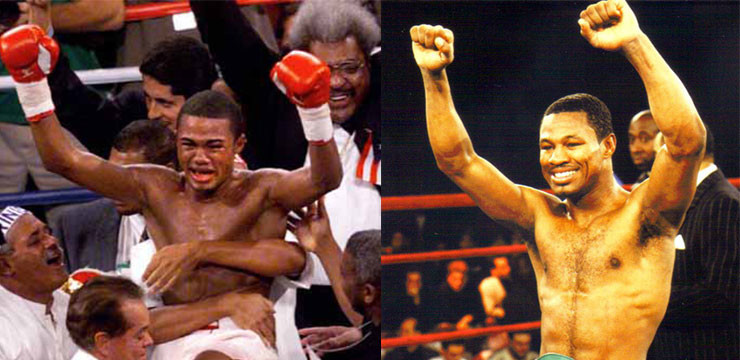 Our debate last week was who would have won a fight between Ricky Hatton and Amir Khan. The circumstances were it was the unbeaten Hatton vs today's present day Khan. The weight would have been 147. Those who went with Hatton felt the pressure of that version of Hatton would have been too much for Khan. The supporters of Khan felt that Hatton's lack of power would have allowed Khan to utilize his speed advantage in route to a victory. The majority went with Khan in this matchup.
Hatton vs. Khan was just a case of two different eras just missing each other. They could have fought but Hatton would no longer have been in his prime or Khan would have been too inexperienced years earlier. Sometimes circumstances stop a fight from happening. A highly anticipated match between world champions Felix Trinidad and Shane Mosley seemed very close to becoming a reality in 2004. Mosley had a fight with world champion Ronald Wright to deal with first. Trinidad was at ringside for the fight. Mosley entered the fight a decisive favorite to defeat Wright. It became quite clear early on in the fight that these odds were wrong. Wright quickly took control of the fight in route to a clear decision victory. Wright would rematch Mosley just months later where again Wright would win by decision. The  Mosley vs. Trinidad fight was no longer being discussed. The fact is Wright would land the fight with Trinidad and defeat him much like in the fashion he did Mosley.
Our debate this week is who do you think would have won had Mosely and Trinidad fought. Both fighters back in 2004 could still have beaten many top fighters at that time but they didn't appear to be the same fighters they were about 4 to 5 years earlier which is understandable. We thought we would make the debate more interesting going with the unbeaten Mosley who had beaten Oscar De La Hoya for the first time in 2000 vs the unbeaten Trinidad who had beaten De La Hoya about a year earlier. This would have seen both fighters in their late 20's and in their physical primes. The weight would have been at 147. Please give us your feedback on who you think would have won between Mosley and Trinindad.
---