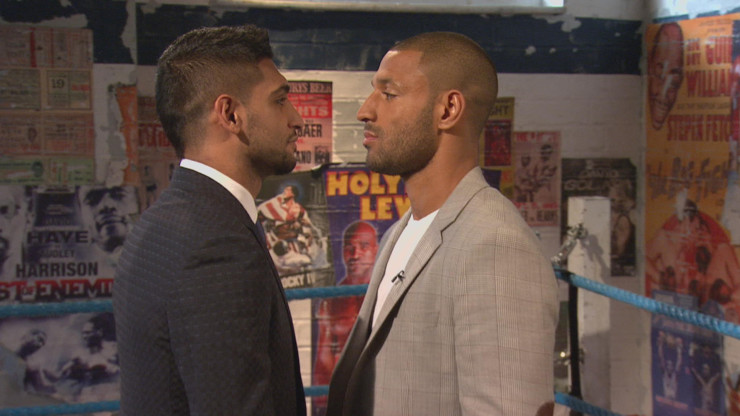 Our  topic last week was the overall feeling of if former world champion Jean Pascal (30-3-1, 17 KOs) of Canada has any chance of beating unbeaten unified Sergey Kovalev (28-0-1,25 KOs) of Russia. Pascal had some success during the fight. He without a doubt gave Kovalev his toughest fight to date. Kovalev still was in control of the fight even with Pascal's successes. The only reason the rematch is even happening for the most part is the debatable ending of the fight. Kovalev had Pascal badly hurt but at the time the referee stepped in Pascal was actually still throwing. It was a judgment call by the referee but like most fighter's in that situation Pascal felt that it was stopped too soon. The majority of the feedback that we got on the rematch was that Kovalev will likely stop Pascal even earlier this time around even with the new addition of Freddie Roach in Pascal's corner.
This week our topic is if the long awaited fight between Amir Khan (31-3, 19 KOs) and unbeaten world champion countryman Kell Brook (35-0, 24 KOs) will finally happen in 2016. Khan spent a good portion of 2015 trying to land fights with Floyd Mayweather Jr. and Manny Pacquiao. Khan was unsuccessful in landing a fight with either. Now we are in 2016 and once again the public is again hopeful that a showdown between Brook and Khan will finally happen. Brook was sidelined with an injury in 2015 but is now ready to go.
Brook will fight his IBF welterweight mandatory Kevin Bizier in his next fight. Brook will be heavily favored to defeat Bizier for sure. Khan is the mandatory to face the winner of the WBC vacant welterweight world title matchup between Danny Garcia and Roberto Guerrero. Khan was already knocked out by Garcia when they fought a few years ago at 140 pounds. The ironic thing is that regardless of the outcomes of these fights the biggest fight for both Khan and Brook will still be against each other. Please give us your feedback on whether you think they will indeed finally fight each other in 2016.
---