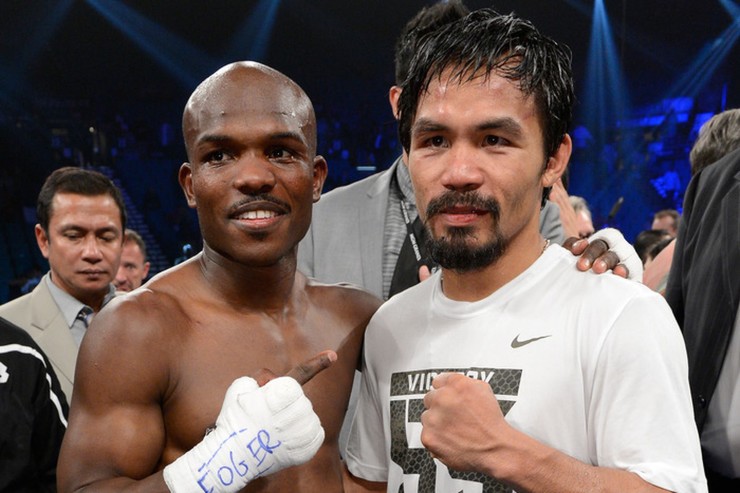 We chose the topic last week of whether former longtime super middleweight champion of the world Chris Eubank rates to be inducted into the international boxing hall of fame. He was one of the most dominate super middleweight world champions of all time. He reigned as world champion in the division from 1990 to 1995. The division was fairly new when he started and he truly made his mark fighting some of the best of his era. He retired with a record of (45-5-2, 23 KOs). The majority felt that he deserves to be in. Many feel that he is not in because most of his fights were fought in England. This does not take away from his accomplishments in the ring at all. He proved  himself regardless of where he fought.
It was recently announced there would be a third fight between superstar Manny Pacquiao (57-6-2,38 KOs) and WBO welterweight world champion Timothy Bradley (33-1-1, 13KOs). The bout  will take place April 9th, 2016.  It will be scheduled for 12 rounds and take place at the MGM Grand, in Las Vegas, Nevada. The fight will be aired on HBO ppv.
Each guy owns a victory in the series. Bradley upset Pacquaio by split decision in June 2012. Many amongst the media and the fans felt that Pacquaio won the fight but two of the official judges had Bradley winning. They would square off nearly two years later where Pacquaio won a unanimous decision. Here we are nearly 2 years from their last fight and they will fight for the tie breaker.
Bradley recently parted ways with his longtime trainer Joel Diaz. In steps Teddy Atlas who trained Bradley for his last fight a knockout of Brandon Rios.  Pacquaio would have been inactive for nearly a year by the time he enters his fight with Bradley. He has already had his mega showdown with Floyd Mayweather Jr. in May 2015.  It will have to be seen just how motivated he will be for his fight with Bradley. It will be also interesting to see what new things Atlas can bring against arguably boxing's top guy in the welterweight division in Pacquaio. Please give us  your feedback on who wins between Bradley and Pacquaio this time around.
---