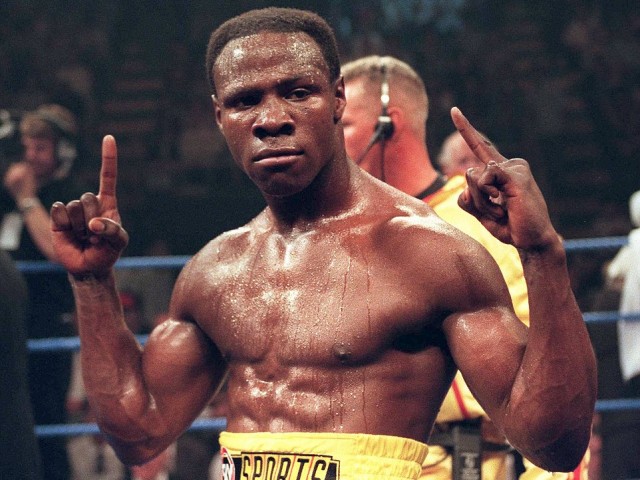 We chose the topic last week of whether newly crowned WBC middleweight champion Saul "Canelo" Alvarez should fight Gennady "GGG"  Golovkin in his very next fight. It was announced by the WBC that both sides would be allowed and have agreed to take an optional fight prior facing each other. The majority of the feedback was that an optional fight was not needed and that the two should square of immediately in their next fight. That is not surprising considering the fight has been very anticipated especially following Alvarez' victory over Miguel Cotto last month. It's not a secret that Alvarez consistently seeks out the best competition. He may be well advised to take full advantage of this opportunity and square off with a natural 160 pounder to be better prepared for the likes of a Golovkin.
This week we have decided to go with a hall of fame debate. Chris Eubank has been back in the spotlight with the emergence of his son Chris Eubank Jr. as a promising middleweight. Eubank Jr. actually won an interim world title under the guidance of his father. He is closing fast on his own opportunity at a full middleweight championship opportunity. The styles of father and son are quite different in the ring. Jr. is more of an aggressive power puncher. His dad was more of an tactical fighter. He was not boring but much more calculated with his movements in the ring. He used his intelligence as well as his athleticism in the ring which seemed to be a big contributor to a lot of his success.
The 2016 boxing Hall of fame class was recently announced. The new inductees all seemed to be very deserving of the honor. It just brought to mind some of those boxers who surprisingly are not already in. Eubank is a name that comes to mind. He was one of the most dominate super middleweight world champions of all time. He reigned as world champion in the division from 1990 to 1995. This type of longevity is almost unknown heard of in this day of age in boxing. He fought some of the very best his division had to offer. Eubank  wasn't one of those world champions who only fought at home.  Eubank lived up to the title of world champion and defended outside his native England.  He defended his world title in Germany, South Africa, Portugal, and Ireland as well. Eubank was also quite the showman. He really knew how to hype up a fight. He finished with a career record of (45-5-2, 23 KOs) Please give us your feedback on if you feel Eubank should be in the Hall of Fame. His numbers seem to support that he should.
---