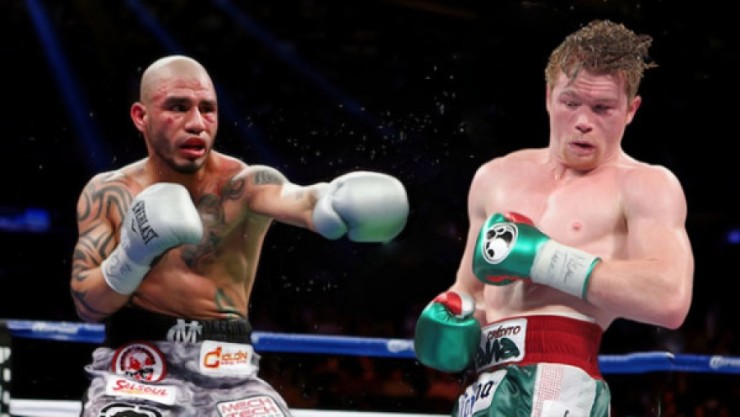 We chose former two- time world champion Fernando Vargas (26-5, 22 KOs) as our topic of debate last week. We requested feedback on whether he deserved to be in the Hall of Fame. Vargas won his first world title at tender age of 21. He fought the biggest names of his era like Felix Trinidad, Oscar De La Hoya, Shane Mosley (twice) and Winky Wright. He had some signature wins including Wright and Ike Quartey. He lost the fights to Trinidad, De La Hoya, and Mosley but was in all of those fights on the official scorecards until the end other than the second fight with Mosley. The responses we got were split on if he rated to get in. The supporters felt he deserved to get in as he fought the top guys of his era with some solid results. The detractors felt he did not win enough big fights over the elite fighters he faced.  It's a fair debate but Vargas did give fans some very memorable fights that are still fresh in their minds this very day.
The long anticipated matchup between Miguel Cotto of Puerto Rico and Saul Alvarez of Mexico did live up to the hype. Both fighters competed with very strong efforts. The fans were truly the winners this night as there were very few lulls in the action this past Saturday night. Unfortunately in fights like this that go the distance there sometimes can be questionable scoring if not the decision . Alvarez won a fairly wide decision on the scorecards which didn't sit well with Cotto and many others who viewed the fight. The fact that Alvarez won the decision was not the main issue but more so that the scores were so lopsided in his favor is what sparked an uproar.
Our debate this week is if these two should do it again. Oscar De La Hoya who promotes Alvarez has already gone on record that Alvarez will next May  2016 and then again in September a few months later. Unofficially the fight appeared to be quite competitive. There were no knockdowns scored in the bout with each guy taking each other's best shots throughout the bout. The other part of the equation is if they can actually agree to terms a second time around. Alvarez did officially win the fight so his side could want more things in their favor this time around. There was no rematch clause so Alvarez is not obligated to fight Cotto again. Please give us your feedback on if you think Alvarez and Cotto should have an immediate rematch.
---