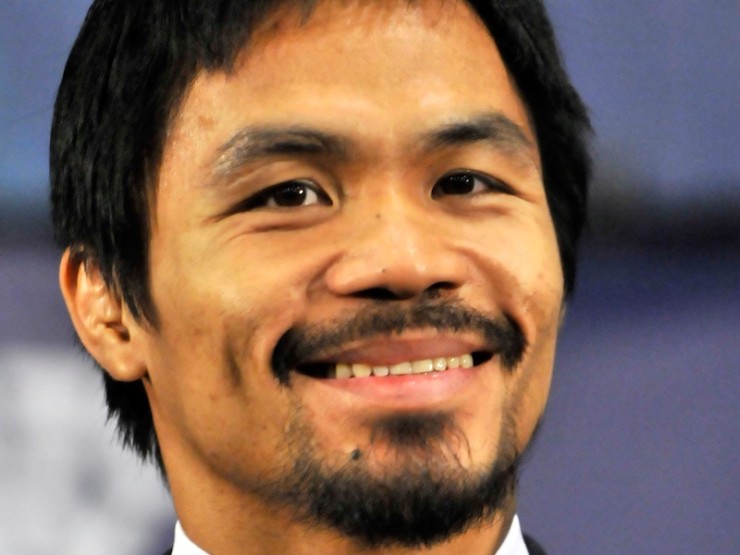 Our debate topic last week was who should be boxing's new pound for pound top guy with the recent retirement of pound for pound king Floyd Mayweather Jr. The names of Gennady "GGG" Golovkin (34-0 , 31 KOs) and Roman "Chocolatito" Gonzalez (44-0 , 38 KOs) are the top two names being considered  after their recent wins. Golovkin has been in the spotlight longer having fought on HBO for the better part of the last three years. Gonzalez has done so just in his last two fights but has made a very quick impression on many. The feedback we got back was actually about even on which guy should be number one.  The fact that Gonzalez is a three-division world champion and just 28 years old swayed many to choose him.
This week we switch the topic to 8-time world champion Manny Pacquiao. It is speculated that he will return to the ring in the spring of 2016. There are a number of candidates that are being mentioned. We want to get your feedback on who you think the best one is. We are going to discuss a few and then want to get your take on them or anyone else that we may not mentioned who you feel is valid opposition for Pacquiao.
The leading name thus far is former world champion Amir Khan. He has been very vocal in the social medias about why he should get the fight. He pursued Mayweather Jr. the last few years but was unable to land the fight. He and Pacquiao are friends and at one time had the same trainer in Freddie Roach. Stylistically it should make for a good fight.
Undefeated world champion Terrance Crawford who successfully defended his title this past weekend saw his name get entered into the Pacquiao sweepstakes. Crawford like Pacquiao is promoted by Top Rank. This is important as it will eliminate any promotional obstacles of the fight being made. Pacquiao did defeat Ricky Hatton for the IBO 140 pound title but winning Crawford's WBO 140 pound title would be more legit in the eyes of some critics. Crawford's style is a tough one for Pacquiao to take on coming off of what would be a one year layoff. Some are advising Pacquiao to pass on Crawford.
Newly crowned WBO welterweight champion Timothy Bradley has an upcoming showdown with former world champion Brandon Rios. If Bradley is successful then he could see his name included to fight Pacquaio. Bradley won what many felt was a controversial decision over Pacquaio in 2012. The rematch in 2014 saw Pacquaio defeat Bradley by clear decision. The first half of the rematch was close. There are many angles to promote a third fight between the two. The tie breaker angle is the obvious one. Bradley also has a new trainer in Teddy Atlas who replaced long time trainer Joel Diaz. Atlas being in the corner could be seen as a missing piece for Bradley and a key to victory.
Those are a few names that we listed. Please give us your take on them. Again if you feel there are some better names that would make for better opposition against Pacquiao please give us the names and  your reason why. Floyd Mayweather Jr. in a rematch would be the number one option for sure. We are going to assume he will stay retired so we have not included him on the list.
---