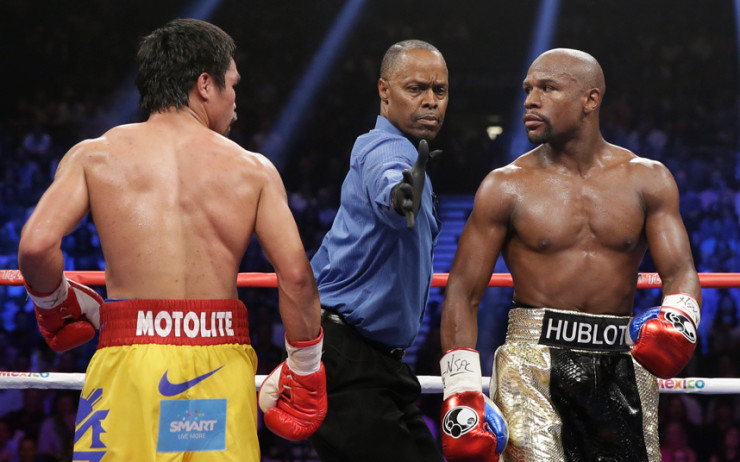 Just like end of the year awards are full of accolades to the best of the year, also the worst has to be touched upon. This time will discuss the Disappointment of the Year. One of the nominees is one who many believe to be the pound for pound fighter now that Floyd Mayweather Jr, Andre Ward. Undefeated, world champion in the super middleweight division, for a time Andre Ward carried a lot of good will from critics and fans alike for his impressive showing in the Super Six tournament some years ago. This last year though was a total bust for the sometime boxing analyst for HBO.
After not seeing action in 2014 because of legal problems with his former promoter, Ward finally came to an agreement with Roc Nation led by hip hop mogul Jay-Z. He finally got a TV date, be it the boxing newcomer BET, and fought unknown Brit Paul Smith stopping him with a ninth round TKO. It wasn't Ward's best performance, understandable because of the inactivity, but never the less. A rumored fight on the "Canelo"-Cotto undercard where scratched when Ward was hurt or his purse was not bet, whatever you want to believe. More is expected from one of the best in the world. He is scheduled to come back in March.
Another world's best that barely saw any action was former super bantamweight champion Guillermo Rigondeaux. He really had a bad year. Released by his promoter Top Rank, Rigondeaux found himself up a creek with no paddle. The thirty-five year old Rigondeaux called out everybody within earshot in hopes in getting a major fight but to no avail. Finally in the fall he signed with Roc Nation and a week later was scheduled in a much-coveted slot on the "Canelo" vs. Cotto undercard. His ten round unanimous decision over Drian Francisco was one of the most dreadful bouts ever on Pay-Per-View. Hopefully we will see better in the coming year.
Definitely the Disappointment of the Year though was the May Pay-Per-View event between Floyd Mayweather Jr and Manny Pacquiao. Five years in the making, the expectation was great for this fight between the best in the world at the time.
It didn't deliver.
Mayweather Jr did what he had to do against a shut down Pacquiao to take the longest twelve-round decision in history. It was expected for Pacquiao, with his speed, power and aggression, to be the toughest challenge for Mayweather Jr to date but it turned out one of the easiest fights of Floyd's career. Later it came out Pacquiao's shoulder was hurt but many believed it would have changed the outcome. The event, which it was because it wasn't a fight, did break every financial record associated with a fight, from PPV gross to gate receipts at the box office. It that sense, you can be assured Mr. Mayweather and Mr. Pacquiao are not disasappointed at all. Since then, after beating Andre Berto last September; Mayweather Jr has retired while Pacquiao has announced his last fight for April of 2016.
---