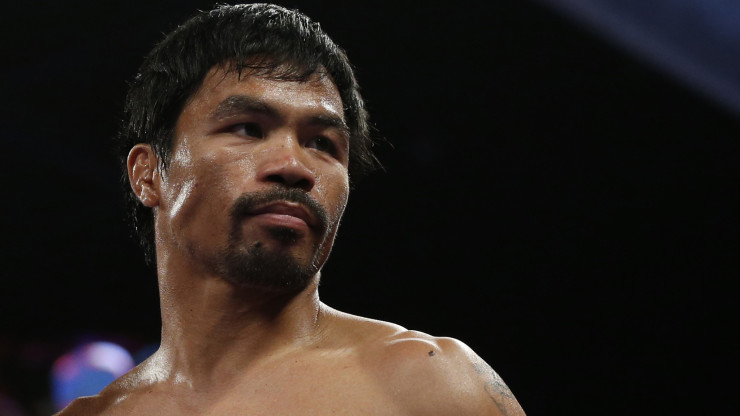 Manny Pacquiao's stock is falling faster than a bowling ball from the top of the Empire State building. Ever since Pacquiao jumped into the scene he was seen as a happy go lucky warrior who inside the ring is a relentless punching machine while outside of it, a gentle soul with an ever-present smile and generous disposition. Following the typical blueprint of a poor fighter making it big, Pacquiao began to spiral out of control some years ago, over the top spending, partying, womanizing among other things made his wife, Jinkee, give him an ultimatum. Either shape up or ship out.
Pacquiao decided to shape up.
He couldn't do it alone so he found support in his catholic faith. Since then Pacquiao has been a firm follower of his Lord giving him all the praise a faithful man can to the point where some unusual statements come out of his mouth. For example, last May after a disappointing performance against Floyd Mayweather Jr in the most anticipated fight of the last twenty years, Pacquiao revealed he stepped into the ring that fateful night in Las Vegas with a bum shoulder. He later stated he did not need your normal physical therapy rehabilitation because he swam in salty water and prayed to God for health.
This last debacle is a bit more serious than that.
It is one thing to say God healed the wound that stopped you from giving more than four million fans that tuned into the event of the decade the fight they expected and another to go against a very and vocal segment of the world's population. In case you haven't heard, last week Pacquiao made a strong statement against homosexuals stating animals were better since our furry friends can distinguish between a same sex companion and a non-same sex companion. The statement was made to a Filipino reporter and released in the United States by the gossip website TMZ. The statement went around the boxing hemisphere in hours and soon thereafter it began with its repercussions. His promoter Bob Arum, a notorious bleeding heart liberal, condemned his statements and Nike, a long time sponsor, dropped him.
This is the first time Pacquiao makes stern statements regarding homosexuals. Back in 2012 he also got into some hot water with quoting scripture regarding his thoughts on gay marriage. Ironically it was before one of his fights against Timothy Bradley also.
If this is the way, a la Mayweather Jr, Pacquiao thinks he can generate some interest and have fans buy his next Pay-Per-View, he might be going at it the wrong way. Although it might be true gays have something much better to do on Saturday nights than to watch two bare-chested men fight for a purse, he's statements couldn't help. Boxing fans in general don't really care what fighters say or do outside the ring. What we care about is what happens inside of one.
People are just disappointed the man many saw as this generations Muhammad Ali might have turned out as this generation's Jesse Helms….
---