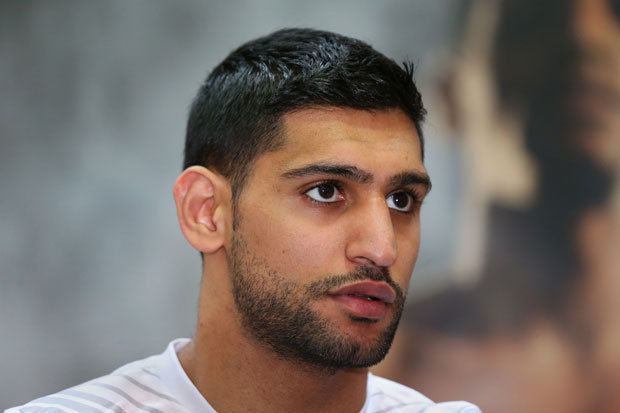 Former champion Amir Khan of England must think he is much more important than he really is.  According to him, the two biggest fighters in the last ten years have refused to fight him.  It all began with him chasing a fight against Floyd Mayweather Jr in late 2013.  Khan kept asking for the fight and despite the Brit winning an online survey that Mayweather Jr himself put together, Floyd still went with Marcos Maidana in May of 2014 and again in September of the same year instead of fighting the quick-fisted Khan.  By that time Khan had moved on to different prey, Manny Pacquiao.
They know each other well since both at one time have been trained by the same man, Freddie Roach.  Khan even made his way to the Philippines and worked with Roach there while the legendary trainer prepared Manny Pacquiao.  There is even video on YouTube of a spirited sparring session at the Wild Card Gym in Hollywood where the action was plenty.
Suddenly just this week Khan went on the record to state he has pulled himself from the running of facing Pacquiao.  According to him all that was needed was for the contract to be signed.
"I'm really disappointed in Manny and his team.  They aren't playing ball.  All that was left to do is sign the contract by they are stalling," Khan told a middle-eastern newspaper.  "I have pulled out of the negotiations.  I am no longer fighting Manny Pacquiao."
All that is fine and dandy but according to the other side of the table, the circumstances are quite different.
Bob Arum, head honcho of Top Rank, mentioned this week that h didn't know where Khan was getting these ideas.  Arum did admit he had been talks with Khan's attorney  but that they were nowhere having a contract drawn up for anybody to sign.
Many believe Khan not really wants to fight neither Mayweather Jr or Pacquaiao but is only using their names to stay relevant and in the news.  After his announcement of not wanting to wait for Pacquiao like he did for Mayweather Jr, Khan did mention he was looking for a fight against either Danny Garcia or Lamont Peterson in rematches, Timothy Bradley or Kell Brook.
Brook is a name Khan has mentioned as much as Mayweather Jr or Pacquiao but perhaps without any intentions of facing him.  It is no secret a fight between Amir Khan and Kell Brook would be a huge event in the United Kingdom.  There will be no problem for these two men to sell out the O2 Arena in London as well as wet the interest of boxing fans on this side of the pond.  At times Khan seems more than willing to make the fight, at others he makes excuses that Brook is not at his level.
Where is Al Haymon in all of this?  Although Khan mentioned he is no longer involved with the reclusive advisor, many believed that was only a ploy to entice Arum to do business with him with the Pacquiao fight.  At the end, it doesn't matter if Haymon is involved or not since he wasn't able to deliver the Mayweather Jr fight and that is a fighter he also advises so not much can be expected for him to do with Pacquiao.
---