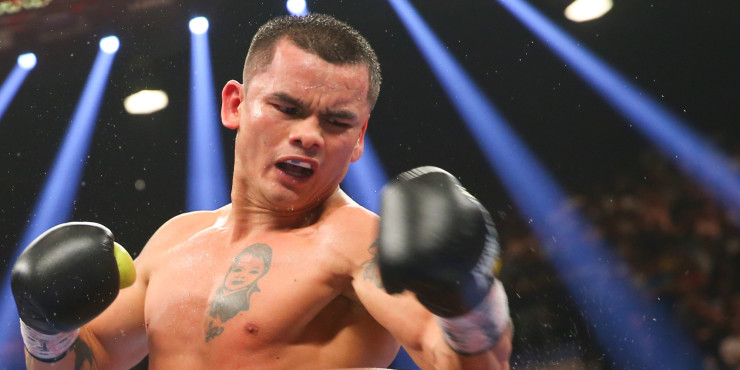 By the looks of things, former super lightweight and welterweight champion Marcos "Chino" Maidana likes to fish. And hunt. Most of all, he likes to eat. Maidana has not stepped into a ring as a professional prizefighter since September 2014 when he dropped a unanimous decision against Floyd Mayweather Jr. That fight was a rematch of their much more exciting fight waged in May of that same year. That one ended in a majority decision for Mayweather Jr.
After the two consecutive losses, the quiet and retrospective Maidana returned to his ranch in Argentina and got back to what he does second best, spend time with his family. What wasn't expected was for Maidana to leave exercise by the wayside and eat himself to close to two hundred pounds. As the boxing world turned without him, Maidana kept relaxing with his family and friends.
Nothing wrong with that.
Once Maidana began to make statements to the Argentinean press about his plans, there weren't all that positive. The word retirement escaped his mouth more than once. A bit early for a man in his early thirties who has captured the imagination of the boxing public with his relentless come-forward and brave style. To lose to Mayweather Jr is no reason to hang your head low. Forty-nine have tried and failed, as "Money" so eagerly tends to tell us. If anything, Maidana can hang his hat that in his first fight with pound for pound king, many considered it one of the closest bouts in recent years for Mayweather Jr. In fact, in those aforementioned forty-nine fights for Mayweather Jr, only Maidana, Saul "Canelo" Alvarez and Oscar De La Hoya have not lost via lopsided unanimous or knockout.
Talks began months ago about Maidana coming back by the fall of this year. First he needed to get back in shape and it was said that he came to visit his trainer Robert Garcia in his base of Oxnard, California. By the looks of it Garcia had no luck in convincing Maidana in staying to train and "Chino" trekked back to his ranch to continue his fishing, hunting and well, eating.
Recently Maidana stated that he would not be back until 2016. After all, Christmas is on its way and that is high family season and the food is not that bad either. One rumor is that Maidana will be coming back in the super welterweight division, seven pounds north of his normal welterweight limit of 147 pounds. Although initially he had denied making it a run in that division since he considered the likes of the already mentioned "Canelo" Alvarez and Miguel Cotto too big for him, now that he is tipping the scales at Ricky Hatton proportions, the idea doesn't seem all that bad.
First Maidana must actually take the first step towards that return. No, its not dropping that third helping of lechon but actually getting inside a gym and getting to work. More than likely it will be in the States, away from the distractions of his fishing rod, rifle, wife, kids and those Argentinean empanadas.
---