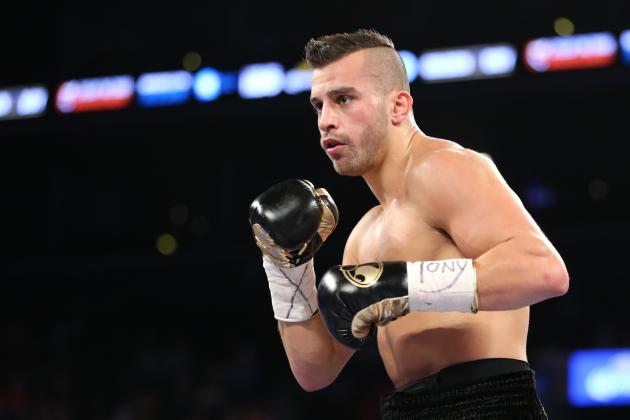 All the boxing world is a buzz with the recent announcement of the Pay-Per-View undercard for the first mega fight of the year.  On May 7th from the newly minted T-Mobile Arena in the capital of boxing, Las Vegas, Nevada, Mexican Saul "Canelo" Alvarez will be defending his WBC middleweight title at a catch weight of 155 pounds against former world champion Amir "King" Khan of Bolton, England.  The fight will be broadcast live on HBO Pay-Per-View.  The co-main event will feature a former middleweight champion David Lemieux against New Jersey's Glen Tapia while Frankie Gomez of East Los Angeles will face his toughest test yet in Maurcio Herrera at welterweight.  The opening bout of the night will be former middleweight title challenger Curtis Stevens against Patrick Texeira of Brazil.
David Lemieux has not had the best of luck since his loss to Gennady Golovkin last October.  In that fight the French Canadian lost his IBF middleweight title.  After some time off, he was supposed to face Texan James De La Rosa just some weeks ago in a hometown return.  Lemieux missed the weight.  Contracted at 163 pounds, Lemieux came in two and half pounds over.  De La Rosa refused to negotiate a higher purse to go on with the fight and the fight was scrapped.  In Tapia he will be fighting a career super welterweight who was exposed in 2013 by a brutal knockout at the fists of James Kirkland in six rounds.  He got back on the horse with three knockout wins but then was stopped again, this time in four rounds,  by Michel Soro back in May of last year.  He hasn't fought since.
If Lemieux is known for something is his heavy hands and now for Tapia, whose chin has now proven questionable, to go up in weight and face a knockout artist has disaster written all over for the "Jersey Boy" but perhaps a brutal knockout is in tow for the fight fans.
Perhaps the most competitive fight of the whole card is the welterweight ten rounder between East Los Angeles' Frankie Gomez vs veteran Mauricio "Maestro" Herrera of nearby Riverside, CA.  Despite being undefeated and eleven years younger than Herrera, Gomez will not have an easy time with the respected "Maestro".  Herrera by far has faced the much better opposition while Gomez, a decorated amateur, has not proven he can fight at his maximum potential.  His troubles with the law and scale are notorious, so much so that Gomez, or better yet his team, has hired somebody to keep an eye on him and make sure he does what he is supposed to and not what he isn't.
This is a truly crossroads fight.  With a win here, Gomez will prove he is ready to gradually make a step up in competition while learning to discipline himself to get ready for a big fight.  If Herrera loses, you can almost guarantee we will not see him at this level again.  Although some questionable decisions have not gone his way against Danny Garcia and Jose Benavidez, those are still losses on his record and they don't bode well for his future along with a loss to Gomez.
As far as Stevens vs Texeira, well….
---