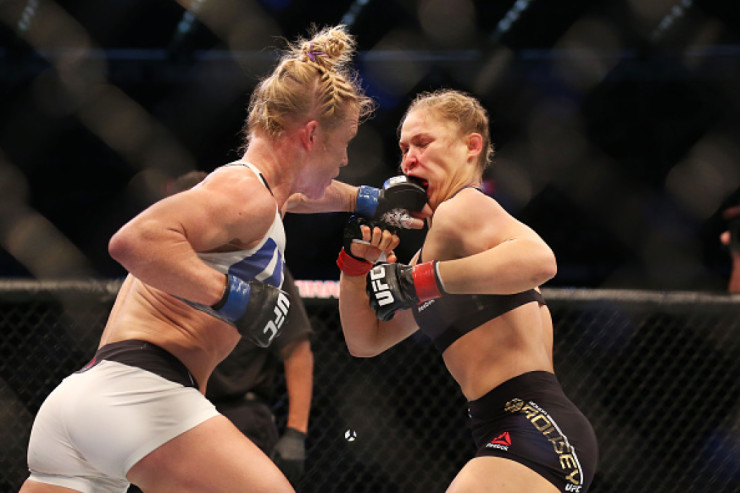 The subject of boxing versus Mixed Martial Arts is a hot topic in the social networks. Many boxing fans have grown tired of hearing MMA fans saying how MMA is taking over boxing. The reality is that both sports seem to be doing okay for themselves. When there is matchup between a boxer and an MMA fighter it really seems to bring out a lot of interests from both sides' fans. This is more so when one or both participants are well known.
An excellent example of this was this past Saturday night when unbeaten world champion Ronda Rousey fought unbeaten challenger Holly Holm. Rousey's rise to fame has been huge the last few years. She has been in movies, modeled, and even voted on an ESPN poll as the best female athlete ever. It is even been reported that she is currently the highest paid athlete male or female in the UFC.
Holm's situation is totally opposite of Rousey's. She is a former world champion in women's professional boxing. Holm was a decent ticket seller in her native Albuquerque, New Mexico where she had almost all of her professional fights. Outside of there she was relatively unknown to most mainstream boxing fans. She retired from boxing in 2013 with a record of (33-2-3 ,9 KOs).
Rousey entered Saturday night's fight a heavy favorite with some sportsbooks having her a -1600 favorite to the +900 underdog Holm. It made sense on paper as Rousey had so many more years of mixed martial arts experience than that of Holm. The thinking by most was once Rousey got her hands on Holm that the fight would be over. Rousey did get her hands on Holm but Holm held it together and got through it. That was pretty much the beginning of the end for Rousey.  Once the standup boxing aspect came into play it was all Holm who would go on to stop Rousey in round 2. The debate will go on for sure of who is better in a head to head matchup of boxer vs. MMA but on this night score one for boxing.
---