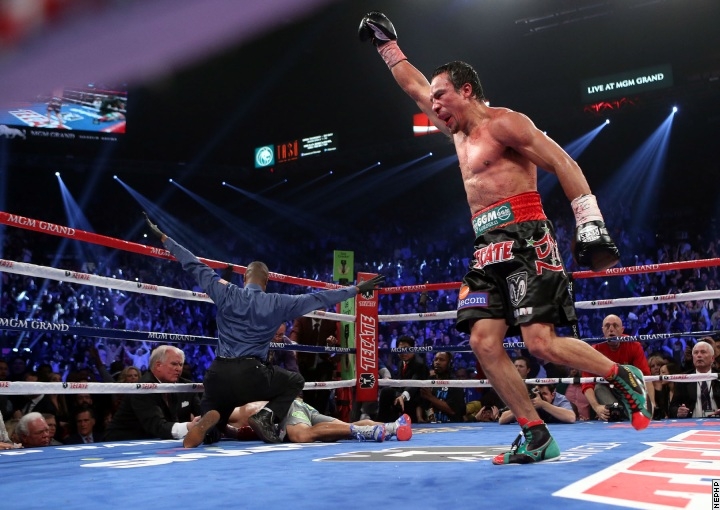 Earlier this week it was the third anniversary of the shot heard around the world.  No, not the Bobby Thompson home-run to win the 1951 National League pennant but the right hand Mexico's Juan Manuel Marquez landed in the sixth round at MGM Grand Arena in Las Vegas, Nevada, on December 8th, 2012, to the face of one Manny Pacquiao.  The shot laid out the Filipino for several moments, to the point that many believed Pacquiao might have been seriously injured.  The sixth round knockout was the last chapter of the Pacquaio-Marquez saga where they faced each other four times with Pacquiao winning twice, Marquez once and the first encounter ending in a draw.
After the fight, Marquez insisted he needed to take matters into his own hands and go for the knockout since the judges never saw things his way.  He has always insisted he won all the times he and Pacquiao have faced each other.  That time he wasn't going to let anything up to chance and practiced the punch that laid out Manny for months in advance.  In the sixth round he saw his chance and took it.
Since that fateful night, Marquez has only fought twice.  In October 2013 he dropped a split decision to Timothy Bradley and in May of last year he defeated "Mile High" Mike Alvarado via unanimous decision at the Fabulous Forum in Los Angeles, California.  Marquez has threatening to come back for a year and a half now alluding to challenging Kell Brook for the IBF welterweight title. Marquez is looking for that fourth title in as many divisions.  During this whole time Marquez has said to have closed the book on him and Pacquiao and says he does not want to face him again.  In latest news Marquez says he wants to do a farewell fight in May of 2016 in Mexico City.
Pacquiao has been a bit busier than his Mexican counterpart.  After that devastating loss, Pacquiao came back a year later with a dominating win over a plodding Brandon Rios in China.  The rematch with Timothy Bradley Jr followed which he won via a unanimous decision.  Back in China in late 2014, Pacquiao dropped WBO welterweight champion several times to capture the title once again with a unanimous decision.  In his last fight, Pacquiao finally faced his arch nemesis Floyd Mayweather Jr in the biggest boxing event in history.  He lost a unanimous decision later claiming he went into the fight with a hurt shoulder.
Now Pacquiao has announced his last fight will be in April of 2016 before continuing his political career in his home country of the Philippines.  He was supposed to announce his next opponent, who everybody expects it to be Timothy Bradley Jr, this week but he abruptly released that he wasn't ready yet to let the news out.  With the retirement of these two boxing icons of the last ten years, the sport will see the end of an era.
Without that fifth fight between them.
---