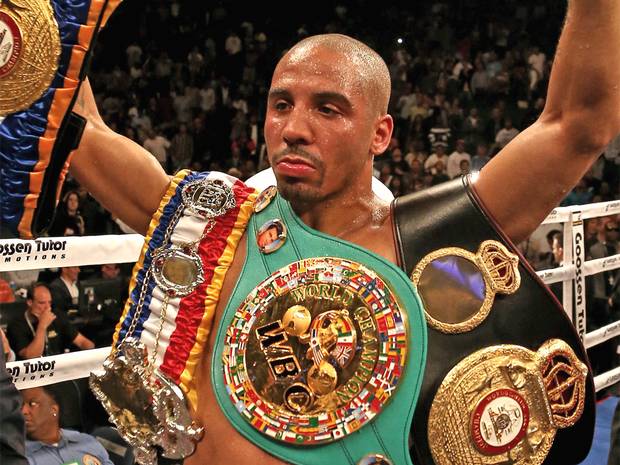 Our debate last week was the recently announced bout between WBC and Lineal Middleweight World Champion Saul "Canelo" Alvarez (46-1-1, 32 KOs) and Amir "King" Khan (31-3, 19 KOs) for May 7th. The showdown will take place at the T-Mobile Arena, in Las Vegas, Nevada. Alvarez' WBC middleweight title will be at stake. The match will be fought at an agreed upon catchweight by both parties of 155 pounds. Initially there was a big uproar about the natural disparity in walk around weight heavily in favor to Alvarez. Then after some thinking the overall feedback from our followers was in favor of the fight. Many feel that Khan's fast hands will give Alvarez some problems if not upset him all together.
It was officially announced this week that unbeaten and former longtime super middleweight champion Andre Ward (28-0, 15 KOs) would take on undefeated IBF #1 rated light heavyweight Sullivan Barrera (17-0, 12 KOs). The bout will take place March 26 at Oracle Arena in Ward's native Oakland, California. The main event bout will be aired on HBO which employs Ward on their broadcast team. Ward will step up to the light heavyweight division having recently vacated his super middleweight world title.
Barrera is a legitimate contender for sure but the eventual plan is for Ward to meet unbeaten unified world champion Sergey Kovalev. That will be an extremely dangerous fight for Ward. Kovalev is a very multi-dimensional fighter. He is steadily becoming more known to the boxing public having signed and fought on HBO the last few years. He is very heavy handed but showed he has a lot of patience as well in his stellar performance against Bernard Hopkins. In that fight he actually out thought Hopkins the thinker. The fact that Ward has been extremely inactive of late is what makes a fight with Kovalev even more risky for him. Ward has fought on the average of about 1 time per year the last 4 years or so.
Our debate this week is not regarding Ward's upcoming fights. It is whether you believe or not that Ward will still be fighting at the elite level following nearly a year layoff and past 30 years of age. Ward is considered an elite fighter in today's boxing. Those type of fighters have risen up to the challenge following long layoffs and past 30. Sugar Ray Leonard had not fought in multiple years prior to this huge upset of Marvelous Marvin Hagler. Floyd Mayweather had not fought well over year prior to his easy dismantling of Juan Manuel Marquez. Should Ward fight Kovalev in 2016 We will see if he belongs in that same category of fighters. Please give us your thoughts on if you think Ward will or will not still be fighting a the elite level upon his return.
---