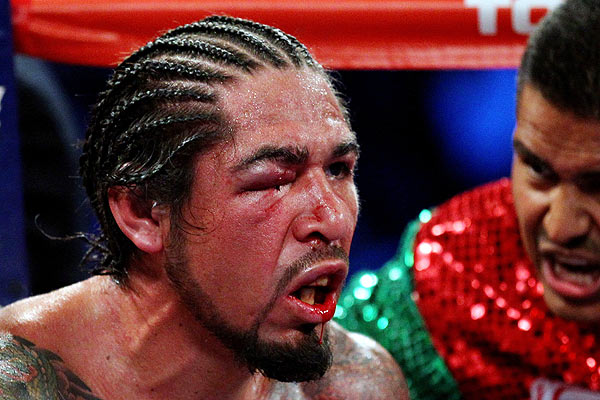 Well, does he want it or not?  Looks like former long-time welterweight champion Antonio "Tijuana Tornado" Margarito is making some demands his promoter Bob Arum of Top Rank doesn't want to comply with.  After nearly four years of inactivity and even announcing his retirement, Margarito came out of the shadows a couple of months ago to reveal he has been training with an unknown trainer in San Diego, California.  He went on a number of Spanish language radio shows and in some interviews mentioned he had been training for the last three or four months and wanted to come back to the ring before the end of 2015.  According to Margarito, one of the reasons he wants to come back is because in his opinion there isn't any exciting fighters on the scene right now.  To prove he was serious, Margarito traveled to Utah to have his right eye checked by a known specialist and get the green light.
You remember the eye, right?
To say the couple of years of Margarito's career up to his point have been tumultuous is an understatement.  After putting together the greatest win of his career with an eleventh round stoppage of Miguel Cotto, Margarito was shamed into exodus after his next fight.  When a questionable substance was found in his hand wraps in his TKO ninth round loss to Shane Mosley in early 2009, Margarito came back a year and a half later.  After a tune-up win, he battled Manny Pacuquiao and was shellacked for the better part of twelve rounds.  During the legal beating, Margarito suffered a broken right orbital bone which put his career in question.  After more than a year rest, Margarito came back in a rematch against Cotto but was forced to stop in the ninth after his eye swelled up.
That was his last fight.
Now his right eye has gotten a suitable clean bill of health and the thirty-seven year old says he has an itch that only getting punched in the face can scratch.  The problem is, according to Arum, is that Margarito wants more money than he is worth to get back in the ring.  It was understood that Margarito would take a tune-up fight before looking for bigger game to catch.  He has mentioned a rubber match with Cotto or perhaps even Golovkin.  The problem is it was expected for him to come back on one of the UniMas network dates that Top Rank is in possession of.
Arum also mentioned Margarito still needs to get licensed by a state in the United States.  Even though the opinion of the eye specialist helps, it doesn't erase the fact that Margarito is thirty-seven years old and has a number of wars on his ledger.  The biggest impediment is the money.  Margarito wants to get paid and UniMas just doesn't have the budget.  Arum is refusing to have him face a top twenty opponent until he sees what he has left in the tank.  That would mean perhaps an HBO date or at the very least on TruTV.
First Margarito must make up his mind.
---