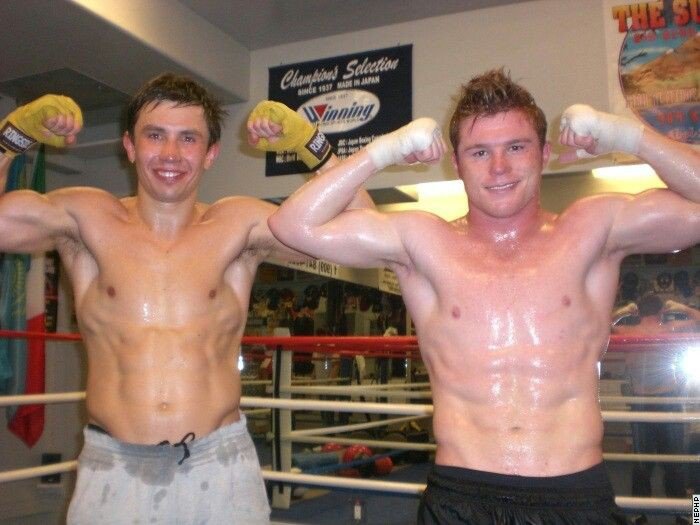 For all intents and purposes, the pieces for the most anticipated fight of the year are starting to come together. It is no secret the most feared fighter on the planet, one Gennady "GGG" Golovkin, has been pursuing all the belts in the middleweight division. Holding the WBA and the IBF, Golovkin needs the WBO and the full-fledged WBC straps to fulfill his goal. He currently holds the interim WBC 160-pound title. Golovkin was supposed to face the then champion Miguel Cotto in November. "GGG" was offered step-a-side money to let Cotto take on Saul "Canelo" Alvarez. When Cotto found out how much that amount was, he decided to vacate the title and gave only Alvarez the opportunity to win the title in their fight.
Alvarez won it.
At that point the WBC ordered both fighters, their new middleweight champion and their interim champion, to have a voluntary defense and then face each other by September of this year thus laying the road work to the biggest fight in boxing which doesn't include Floyd Mayweather Jr or Manny Pacquiao.
It was recently announced that after going after newly crowned WBO champion Billy Joe Saunders, Golovkin would have to settle in defending his IBF strap against the #1 ranked Dominic Wade. The fight is scheduled for Saturday, April 23rd, at the Forum in Los Angeles. Not trying to fix a fight card if it is not broken, WBC flyweight champion Roman "Chocolatito" Gonzalez has been added to the card. It was originally planned for Gonzalez to face Mexican Juan "Churritos" Hernandez but instead he will be defending his title against Puerto Rican McWilliam Arroyo.
You must be living under a rock or not that big of a boxing fan if you haven't already found out who WBC middleweight champion Saul "Canelo" Alvarez is facing on Saturday, May 7th, on HBO Pay-Per-View. In case you don't know, it will be former super lightweight champion Amir "King" Khan. One fight that was being talked about for the under card and would have added even more anticipation for the event to be the inaugural fight card at the new T-Mobile Arena in Las Vegas was the welterweight face-off between
Lucas Matthysse of Argentina and Mauricio Herrera. Looks like talks have gone south and now they say Matthysse will be facing Mexican Pablo Cesar Cano. It just doesn't have the same curb appeal.
As far as Herrera, he resumed talks with Ruslan Provodnikov for a possible rematch.
Now, just because the pieces are falling into place it doesn't mean in no shape or form "Canelo" Alvarez and Gennady Golovkin will actually face each other across a ring this year. If anything the fight has gotten farther than any closer since road map to the fight was announced by the WBC. The issue of the weight is still up in the air and with some comments made by Oscar De La Hoya regarding the purse split has only possibly made the fight to come to fruition even more difficult.
---