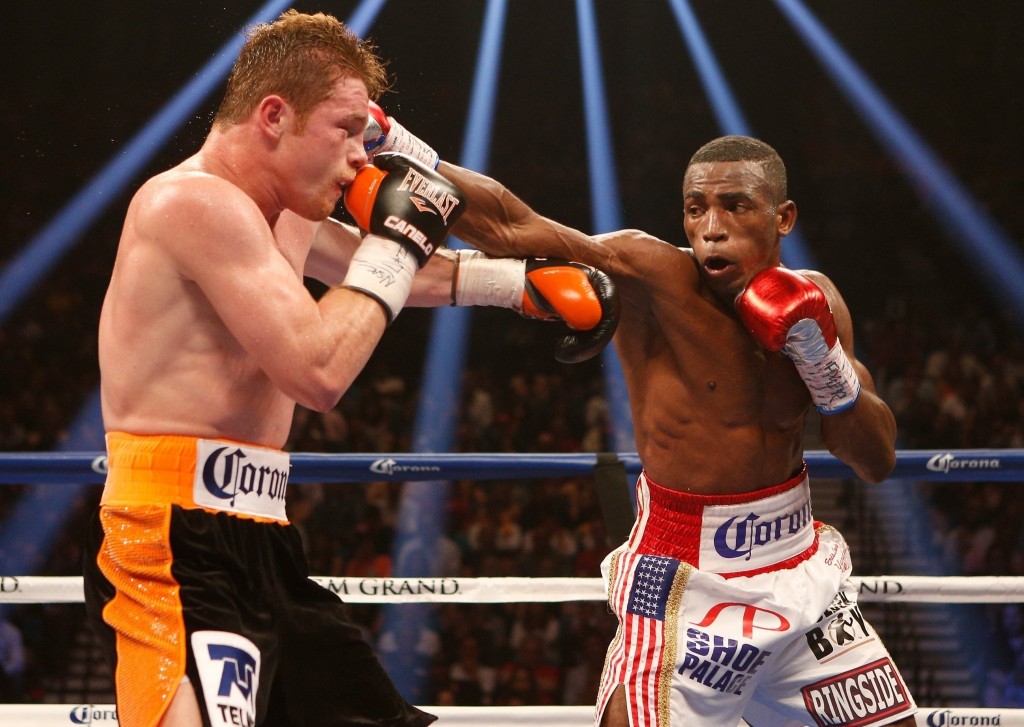 Despite a crime was committed in front of over fourteen thousand fight fans at the MGM Grand Arena in Las Vegas, Nevada, this past Saturday night, no culprits were arrested.  Nobody knew who was the guilty one, whether it was New Mexico judge Levi Martinez or something more sinister that leads all the way up the ladder to the Nevada State Athletic Commission or Golden Boy Promotions head honcho Oscar De La Hoya.  The victim was current WBA super welterweight champion Erislandy Lara who after scoring more punches than Saul "Canelo" Alvarez by a slight margin and clearly out-boxing the Mexican star was on the short end of a split decision by scores of 117-111 and 115-113.  One judge did see it Lara's way with scores of 115-111.
Granted, Alvarez was the man moving forward the whole fight while Lara was circling the perimeter of the ring never stopping to really engage against the former WBC and WBA champion but is that enough to win a twelve round fight?  The fact that he missed more punches than he landed and the majority that he did land, body shots considered power punches so of more "value" in the pro game, mostly hitting Lara on the elbows and on the back.
Or is it that the man who is in his second headlining PPV as the "A" side and who was responsible for most of the gate goes into the ring with the benefit of the doubt for the majority of the rounds?  Let it be known that despite the announced number of fight fans in the arena were more than fourteen thousand, it was rumored that Golden Boy Promotions had to paper the house to reach that number since sales of tickets weren't was being reported.
Unfortunately for Lara, besides himself and his co-manager Luis DeCubas Jr, nobody is calling for a rematch.  The problem here is that despite Lara out-boxing Alvarez, it wasn't an entertaining fight.  There were no heated exchanges, no all-out brawl and besides a cut over the left eye of Lara and a slight swell of Alvarez's right eye, not much damage done on either one.
Obviously at the post-fight presser all of Team Lara called out for an immediate rematch.  Despite Lara still retaining his WBA 154 pound title, nothing is enticing for Alvarez as well as De La Hoya, who originally lobbied against this fight, to have "Canelo" face the Cuban.  De La Hoya made it a point to announce to the media after the fight that Lara needed to get back in line to face Alvarez and there were ten fighters ahead of him.
The way is now clear for a mega-event between Saul "Canelo" Alvarez and the newly crowned WBC middleweight champion Miguel Cotto.  Cotto is very snug with Top Rank at the moment but he is still a free agent.  Why does an athlete, whether it is baseball, basketball or boxing, opts to be a free agent? For the money.  I am sure if Golden Boy offers, Cotto will listen. Will we see it this year? We can only hope so.
---