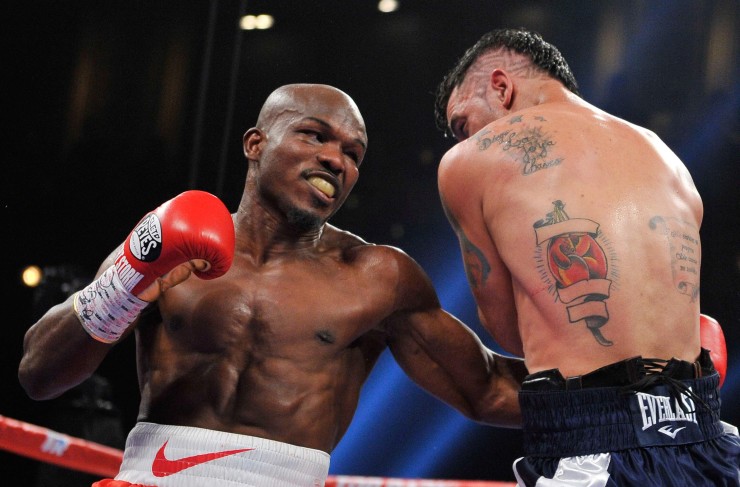 It looks like lately, there are more auditions in boxing than on Broadway.  This past Saturday night Timothy "Desert Storm" Bradley defended his WBO welterweight title against Brandon "Bam Bam" Rios with a masterful performance.  The bout took place at the Thomas and Mack Center in Las Vegas and it was broadcast live on HBO.  By the looks of it, this might have been Bradley's audition to get the rubber match against Manny Pacquaio in April of last year.  A week prior, Terence "Bud" Crawford made his case with a late technical knockout of Dierry Jean in Omaha, Nebraska, also on HBO.
Bradley, under the tutelage of his new trainer Teddy Atlas, looked more focused and disciplined as boxed circles around a slow and plodding Rios.  The fact Rios was in his first fight in eight months, didn't make weight on his first try and looked about twenty pounds heavier than Bradley didn't help his cause.  Bradley pretty much did what Pacquiao did to Rios back in late 2013 where the Filipino darted in and out and landed punches from different angles.  Bradley did the same but the Rios from two years was nowhere near the Thomas and Mack Center this weekend.
Rios took the second, perhaps his only round, with controlled aggression that pushed Bradley against the ropes.  There Rios could do some work to the body of his opponent and score some good punches.  Bradley went back to boxing instead of mixing it up with Rios for the remainder of the fight and it proved it was all he needed to control the action.  A left hook to the body, one of many, finally put Rios down in the ninth.  Bradley followed it up with a flurry that forced referee Tony Weeks to stop the beating.
Bradley first faced Pacquiao in the summer of 2012.  After twelve dirty rounds with a lot of holding and not much punching, Bradley controversially took a split decision win.  He didn't even believe it seconds after the decision was announced and even stated he needed to look at the tape to see what had really happened.  Once logic visited his head, Bradley told everybody that would listen he won the fight.  Bradley was put in exile by not only the boxing public but his promoter and didn't get fight until nearly a year later when he went to war with Ruslan Provodnikov.  A win over the "Siberian Rocky" and Juan Manuel Marquez earned him another shot at the "Pacman".  He lost that fight via unanimous decision.
Will Pacquiao want to fight this version of Bradley in what is being touted as his last fight ever? Is Bradley the lesser of two evils when you compare him to Terence Crawford?  Those are the questions that will be answered by who the Filipino super star chooses as his next and last opponent.
One thing though is to put his last win into perspective.  It is one thing to beat a slow and overweight Brandon Rios, another thing is to beat a mobile, quick and smart Manny Pacquiao, even if he is thirty-five years old.
---