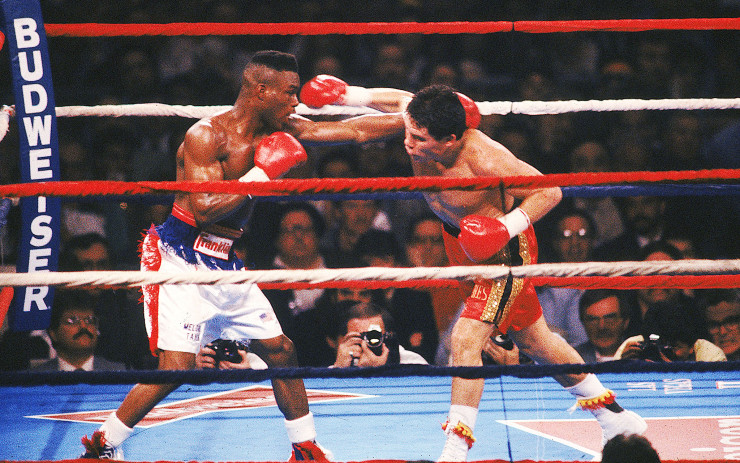 Our debate of the week last week was regarding long time contender Lucas Matthysse. He made headlines with recent comments saying that he no longer has the passion or desire for boxing that he once had. This is ironic as these same qualities have seen him in some very thrilling and exciting fights. The responses from our followers were divided. Some felt that he should retire while others felt a change of trainers may be a good for him while continuing on with his career.
Twenty years ago today world champions Meldrick Taylor and Julio Cesar Chavez squared off. Both fighters entered the mega showdown undefeated. It was a grueling bout which saw Taylor officially ahead entering the 12th and final round. Chavez dropped Taylor with just seconds to go in the fight. Taylor beat the count but referee Richard Steele called a halt to the action and Chavez went on to win by stoppage.
Steele has maintained for years that he stopped the fight because Taylor did not respond when he asked if he could continue. A review of the video of the fight supports this as Taylor did not answer. He appeared to be looking at his neutral corner. Taylor supporters were outraged as there were just 2 seconds remaining in the fight at the time of the stoppage. It should be noted that the referee is not a time keeper and his priority is the safety of the fighters.
The sides are divided on the outcome depending who you speak with on the topic. It is indeed one of boxing's most debating topics in the modern day era. Taylor was so close to victory but got careless defensively in the waning moments of the fight. It should be noted that he had taken his fair share of punishment entering that final round as he face was badly swollen. Chavez faced looked fairly fresh considering the tough fight he had been in. We want to hear from you on whether you agree with Steele' stoppage.
---