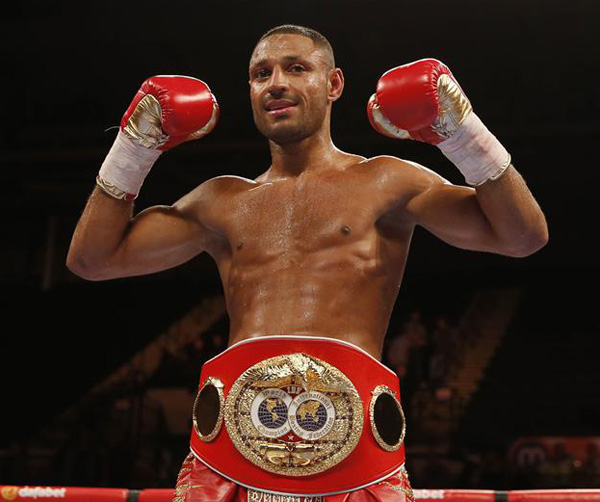 Unbeaten IBF welterweight world champion Kell Brook (35-0, 24KOs) of the United Kingdom did not fight this weekend but oddly enough there were certain indirect links to him following the fight results Saturday. WBO welterweight world champion Timothy Bradley stopped former world champion Brandon Rios in round 9 of their main event bout televised on HBO. Some months back it was thought that it  would have been Brook to have faced Rios. Each side has their reasons as to why the fight was not made. Some were even saying that perhaps Brook's side felt Rios may have been a bit of a dangerous defense. This seems farfetched after Rios was dominated so clearly by Bradley. Rios also announced his retirement following the fight ending hopes of a showdown with Brook anytime soon. His performance versus Bradley would have eliminated any realistic future fight with Brook.
Bradley's dominating victory over Rios could also be just the breakout fight Brook could try and make happen. There is no promotional issue between Bradley promoter Top Rank or Brook promoter Matchroom. They actually have a good history of working with each other.  Matchroom also has the budget to make a lucrative offer to have Bradley come to the United Kingdom  for a unification with Brook. HBO of the United States and Sky sports of the UK would both be on board for sure for such a fight. It seems like a win win situation for everybody on paper.
Brook was scheduled to fight Diego Chaves of Argentina this past October 24th. Brook was forced to withdraw from the fight due to a rib injury suffered while sparring. The fight is in the process of being rescheduled. In the meantime Brook has a new mandatory challenger after this past weekend. Unbeaten Fredrick Lawson and Kevin Bizier fought an eliminator this past Saturday night.  This was the third time that Bizier fought in an IBF world title eliminator losing the first two by decision. He would not have to worry about scorecards this time around as Lawson was unable to continue on after round 10.
Brook seems to at the very least have his next two fights pretty much set. It will just be a matter of if he will have the huge mega showdown with Bradley or some other major name somewhere in that mix. Truth be told excluding injuries Brook has been one of the more busier world champions. This is a large in part to his promoter Matchroom doing an excellent job of keeping Brook active. In any event this past weekend turned out to be quite future enlightening for Brook even without him fighting.
---