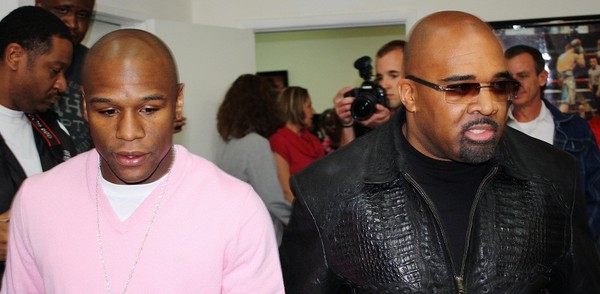 In continuing the series on controversy and how it ties together with our favorite sport, we don't have to go any further than Mayweather Promotions.  It is no secret that their namesake, Floyd "Money" Mayweather Jr, has had some running with the law.  The most significant was his latest when he was accused and he pled guilty of domestic violence against the mother of three of his four children.  After many other crimes all involving in one way or another his harsh illegal treatment of women, the law finally had enough and sentenced Mayweather to ninety days in jail.  He served 60 days, two-thirds of his original sentence, getting off early for good behavior.
With a video in which NFL player Ray Rice can be seen striking his then girlfriend and now his wife going viral this week, the subject of domestic abuse has garnered the spotlight across the national.  While Rice is fired by his team, Mayweather Jr is set to make yet again another record pay day.  That fact has brought major scrutiny on Mayweather, his brushes with the law and the way he conducts himself towards women.  Although the boxing media, short of a couple of writers who are not afraid for them media credentials to be revoked, tend to turn a blind eye to this aspect of the "Money" persona, the mainstream sports media does not as a couple of major stories detailing Mayweather's attitude towards women have hit the internet, most notably one in DeadSpin.com and another surprisingly in ESPN.com that calls for a boycott of this Saturday's fight and any other that feature the undefeated fighter.
Hardly anybody in boxing dare to defend Mayweather but one that does is the man that has stood by him for nearly twenty years.  Now the CEO of Mayweather Promotions, Leonard Ellerbe went on record to request that media to let one slide for Mayweather since he does so much for boxing.  He unabashedly stated that Mayweather Jr does everything he can in and out of the ring to be a positive figure in the sport but the news stories revealing his crimes just don't let that happen.
Really?
The fact that Mayweather Jr pled guilty to repeatedly punching the mother of his children on the back of her head, in front of his children, and when the mother asked the children to call the police, Mayweather threatened them with great bodily hard if they did?  That is him doing everything possible to be a positive figure in the sport?
Ellerbe went on to say that he believes the reason why boxing is not in the mainstream as it once was is because the media and fans "denigrate and criticize people's accomplishments…"  I don't think there is a true boxing fan of this port that doesn't believe that Mayweather is one of the best to have ever laced up a pair of gloves.
That has nothing to do with the fact that he is a convicted women beater.
---