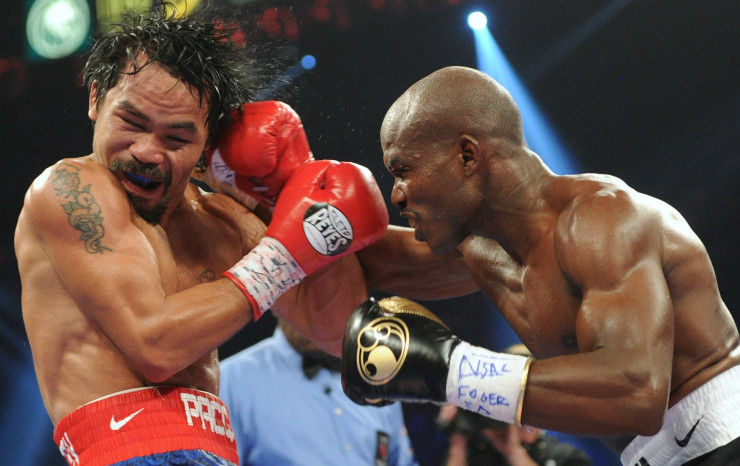 Is anybody aware eight-time divisional world champion Manny "Pacman" Pacquiao is jumping into the ring at the MGM Grand Arena in Las Vegas in eight days? On Pay-Per-View?  It is difficult to fathom there is absolutely no buzz for the third installment between the Filipino congressman and Timothy Bradley. No "24/7" series by HBO, no major talk on any big networks, nothing.  Initially it was announced this fight, win, lose or draw, would be the Pacquiao's last fight as a professional but that statement was soon retracted by Top Rank's Bob Arum after Pacquiao stated he wasn't sure what would he do after the April 9th main event.
It wasn't too long ago when a Pacquiao fight was one of the bigger events in the sport each year if not the biggest.  His run at the turn of the century is one for the records books and understandably so led to him being named the fighter of that decade. Even in the last six years Pacquiao's opponent have been some of the biggest names of the sport including Shane Mosley, Juan Manuel Marquez twice and Timothy Bradley Jr twice while taking wins over Brandon Rios and Chris Algieri in stay busy fights as well.  In his last fight, last May in Las Vegas, Pacquiao dropped a unanimous decision to Floyd Mayweather Jr in the most lucrative boxing event of all time.  Unfortunately the fight inside the ring wasn't nearly as good as the take the promoters, fighters and all those in between took in.
With that said, this fight against Timothy Bradley Jr has not garnered any interest from the hardcore or casual boxing fan.  At thirty-seven years old, at the tail end of a twenty-one year old career which began he was sixteen, seems Pacquiao is treading water for hopefully one last big event, one last big paycheck.  In Bradley Jr, he won't have a walk in the park.  Bradley Jr is considered a tough competitor who despite also being long at the tooth at thirty-two years old, is also looking for the same thing.  A second loss to Pacquiao would nearly guarantee his exit at the world-class level of the sport and it should be expected he would be considering retirement soon.
It is expected Top Rank is waiting for the winner of this fight to match him up against two-divisional world champion Terence "Bud" Crawford.  Crawford,  draw in his hometown of Omaha, NE, is being built by Arum as the next big thing for the company.  A win over Bradley Jr but more importantly Manny Pacquiao will not only look great on his ledger but will elevate his profile with the casual fan.
If Bradley Jr is able to pull off the slight upset and defeat Pacquiao, more than likely we have seen the end of Pacquiao short of a farewell fight, or a couple, in Las Vegas and his home country of the Philippines.  We won't know what happens next until after thirty-six minutes or less of boxing on April 9th.
---