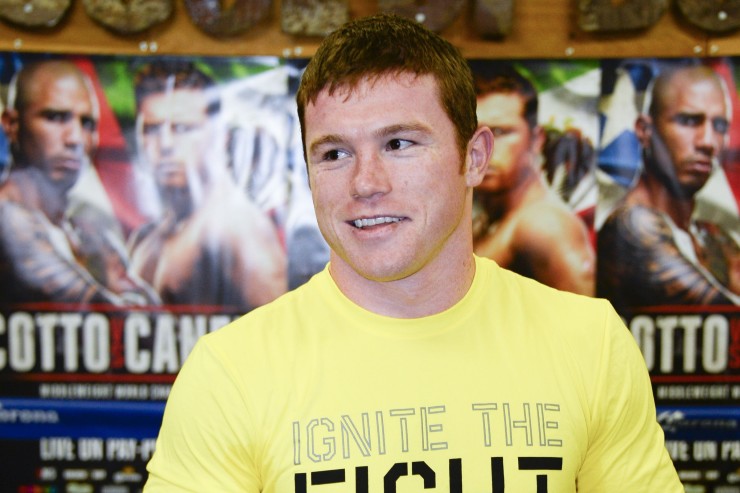 Mark Taffet, who is retiring as HBO Pay-Per-View czar, announced the numbers for his last hurrah at that post this last week.  Last November 21st Saul "Canelo" Alvarez of Mexico dominated Puerto Rico's Miguel Cotto to capture the WBC middleweight title at a catch weight of 155 pounds.  According to Taffet, the fight sold nine-hundred thousand buys with $58 million generated.  Taffet also shared that no Pay-Per-View fight had generated so many buys since Lennox Lewis vs. Mike Tyson in '02 that didn't have either Mayweather Jr, Pacquiao or De La Hoya as part of the equation inside the ring.
The question is, are these numbers accurate?
Golden Boy Promotions, who handle the career of Alvarez, and HBO are desperate to establish Alvarez as the next Pay-Per-View star.  With Pacquiao threatening to have his last fight in April of 2016 and with Floyd Mayweather Jr in the middle of what many consider is another sabbatical from the sport, the door is wide open for the new king of the sport, at least in economic terms, to walk right through.  There is no one out there that you can make a better case for than Saul "Canelo" Alvarez.
Young, Mexican and popular, that is pretty much all you need in boxing to make it to the highest echelons of the sport.  What about talent? Skill?  There is ways around that.  Since he hit the boxing radar, Alvarez has proven to be a media darling and with that the majority of the public's approval, mostly Mexican and Mexican-American.  He has proven to be a ticket seller, filling up two major stadiums in Texas although with sharply discounted prices.
He has fought current and former champions and defeated them.  Austin Trout, Erislandy Lara and Shane Mosley are some of the names on his ledger. Some he beat soundly, some not so much.  His loss to Mayweather Jr nearly forgotten, Alvarez is riding a wave of approval from all aspects of the sport due to his most recent win.
There are sources in the dark recesses of the internet that say that these numbers are not accurate.  They say the real numbers are closer to 650K.  Still successful but not as impressive as the numbers spilled by Taffet.
Let's not forget this is not the first foray for Alvarez in the Pay-Per-View, obviously he had that fight with Mayweather Jr which is the second highest sold PPV in history but he was the "B" side of that equation.  When he had to carry the PPV like he did with Alfredo "Perro" Angulo and Erislandy Lara, things weren't all that great.  Many believe that is why his prior fight to Cotto, against James Kirkland, was on regular HBO.
HBO, Golden Boy and company must show he is a success so they can go after that coveted May and September traditional Pay-Per-View dates.  Really, there isn't anybody else, as long as Mayweather Jr doesn't come back, that can take those dates.  Even though Golovkin might be better inside the ring than Alvarez and he might have the support of the Mexican and Mexican-American community, he still is from a country many of us can't even pronounce.
---