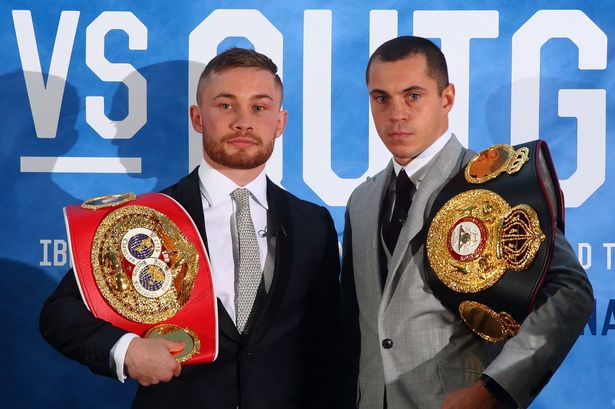 Our debate last week was on the opinion of our followers regarding if unbeaten world ranked heavyweight Anthony Joshua (15-0, 15 KOs) of the United Kingdom.. We wanted to know what the overall feeling would be on whether he would be ready for the defenses that would be waiting for him should he become world champion. Johshua is set to challenge newly crowned unbeaten IBF heavyweight champion of the world Charles Martin (23-0-1, 21 KOs) of the USA. The main event will take place April 9 at the O2 Arena in Joshua's native London, England. Joshua is heavily favored to dethrone Martin but this is not our debate.
The oddsmakers have already placed Joshua a very heavy favorite to dethrone Martin. This could be largely based on how Joshua has been dominating the opposition he has faced thus far. There is also a lot of doubts on Martin's credibility as a heavyweight champion of the world. He won his title last month versus unbeaten Czar Glazkov when Glazkov was unable to continue due to a leg injury suffered early in the bout. The victory left more questions than answers for many regarding just how good Martin really is. The feedback we got was that Joshua is not quite ready for the challenges that will be waiting for him should he get past Martin. We shall see if he is at least ready for one of these challenges that lay ahead for him.
The long awaited showdown between unbeaten world champions of the United Kingdom Carl Frampton and Scott Quigg is finally going down this weekend. The bout has been talked about for a few years now. The overall opinion on who will win has been about split amongst the fans and boxing media. The debate we have though is if the winner should be considered the top guy at 122 pounds. Former world champion and unbeaten Guillermo Rigondeaux is considered by many the divisions number one man as he never lost his world title in the ring. It has been reported that he will be sitting ringside for this weekend's bout and the winner has been mandated to fight him next by the WBA. We want your feedback on whether the winner of Frampton-Quigg to be considered the top guy at 122 or will they be decided when they face Rigondeaux. We want to hear from you.
---