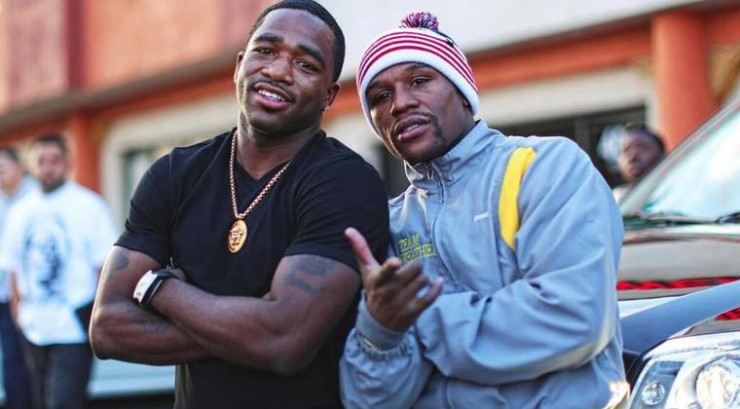 Adrien Broner fought the law and the law one.  At the time of this post, "The Problem" Broner would have turned himself in to the Cinicianni, OH, authorities for allegedly beating a man with a gun outside a local bowling alley back in January.  Bail was set at a cool $100,000.  The good thing was the police of his hometown let the four-divisional champion go through with his scheduled fight this past Friday where Broner stopped England's Ashley Theophane in nine via a somewhat controversial stoppage.  Despite winning the fight, Broner lost his WBA light welterweight title at the scales when he came in over the limit by a little less than half a pound but refused to drop the weight.  He immediately took a big swallow of Gatorade after coming in heavy indicating he had no intention of making the weight.
By the looks of his Instagram account, Broner was only in custody for a couple of hours as he posted images of before and after turning himself in.  More than likely he was let out on bail and must answer to the accusations at a later date in court but what about his boxing career?
More interesting than the one-side beat down of Theophane who never was able to keep up with pressure from Broner was the post-fight interview with "The Problem".  During it Broner acknowledged the comments his former "big bro" Floyd "Money" Mayweather Jr made towards him after a short Instagram video circulated where Broner, being Broner, threw some change up in the air at Wal-Mart.  Broner took offense at Mayweather Jr not having his back when Broner had his when "Money" was arrested for domestic abuse.  During the interview Broner mentioned he was disrespected as a man and he needed satisfaction so he called out Mayweather Jr who was standing at the ring apron attending Theophane.  Broner mentioned Mayweather Jr needed to "see him" either in an official fight or a sparring session.  Mayweather Jr did nothing but clap and laugh.  Later "Money" went on record to say Broner was nothing but acting a fool on April Fool's Day.
So what to make of it?
It is obvious despite Mayweather Jr being officially retired since last September he is still the biggest paycheck in the business.  Mayweather Jr has hinted at coming back but only against undefeated and current WBC welterweight champion Danny "Swift" Garcia.
Broner at this point is neither undefeated or a champion.
What Broner does signify is a draw.  Broner, consciously or unconsciously, knows how to draw attention, from his on-line antics to his runnings with the law, Broner captivates the boxing audience much more than Danny Garcia.  That fact translates into Pay-Per-View buys when their pre-fight antics get primetime showing on ESPN and the other sports shows.
The question here is if this is a real beef or a set up between Mayweather Jr and Broner.  Mayweather Jr became the huge draw he is by knowing how to cross-over the mainstream with stints on Dancing with the Stars and the WWE.  He must have learned something there, right?
---